This is an archived article and the information in the article may be outdated. Please look at the time stamp on the story to see when it was last updated.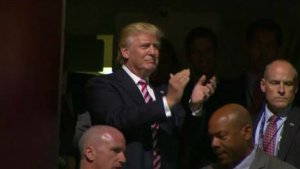 CLEVELAND, Ohio -- Ted Cruz refused to endorse Donald Trump Wednesday while speaking at Trump's own Republican convention, a powerful rebuke that earned boos from the audience. Trump then disrupted Cruz's moment by appearing in the arena at the end of the speech, upstaging the Texas senator.
Cruz, his party's runner-up, uttered Trump's name just once -- to congratulate him -- and instead pitched the ideological brand of conservatism that endears him to the GOP's base.
But as it was clear Cruz was wrapping up his speech without endorsing Trump, delegates began to boo and some chanted "We want Trump!"
"Don't stay in home in November," Cruz said towards the end of his otherwise very well received speech. "Stand and speak and vote your conscience."
Cruz became the only prominent speaker to not back his party's nominee, a decision that is sure to be criticized by Trump allies yet is likely to cement his position as an anti-Trump leader after November.
There was perhaps no greater sign of the divided party that Trump now leads than Cruz's choice to all but ignore him.
"I congratulate Donald Trump on winning the nomination last night," Cruz said. "And like each of you, I want to see the principles that our party believes prevail in November."
As delegates began to protest, Sen. Cruz's wife, Heidi Cruz, was heckled by Trump supporters shouting "Goldman Sachs!" and escorted out by security. Heidi Cruz, who is an employee of Goldman Sachs, declined to answer questions from reporters, saying "I don't talk to the media, thanks."
HEIDI CRUZ escorted out by security as crowd gets angry at Cruz for his speech. One Trump supporter shouting "Goldman Sachs!" at her

— Manu Raju (@mkraju) July 21, 2016
**Follow FOX 8 News and fox8.com throughout the week for continuing LIVE coverage on the RNC**
**Follow us on Twitter and Instagram; like us on Facebook for photos and LIVE updates**