This is an archived article and the information in the article may be outdated. Please look at the time stamp on the story to see when it was last updated.
MIDDLEFIELD, Ohio — Wicked weather on Thursday left behind damage in some Northeast Ohio cities.
In Middlefield, a structure on Kinsman Road appeared heavily damaged.  Geauga County was under a tornado warning for some time Thursday afternoon. Warnings have since expired.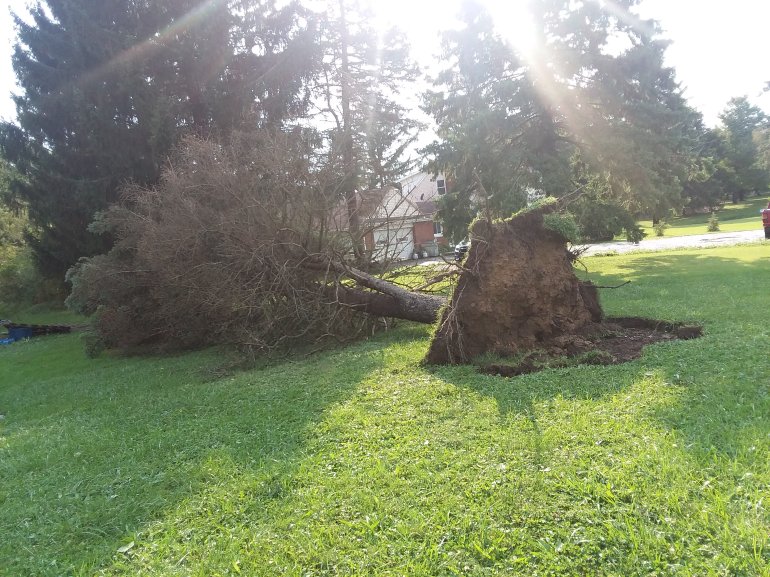 The Geauga County sheriff tweeted that wires are down and a pole is snapped on Nauvoo Road in Middlefield Township.
The National Weather Service out of Cleveland tweeted that trees and wires are down in the area, and there is roof damage.
Possible tornado damage in Middlefield OH. Trees and wires down in the area, roof damage. Tornado warning continues in Trumbull County. Find safe shelter if in the warning. Please share reports of damage with the @NWSCLE

— NWS Cleveland (@NWSCLE) September 20, 2018
Wires are also down on Wisner Road and Mitchells Mill Road in Chardon Township.
MFFD Addr: 16765 Nauvoo Rd; Middlefield Twp Type: Wires Down – Pole snapped wires across the rd

— Geauga Co. Sheriff (@GeaugaSheriff) September 20, 2018
CHFD Addr: Wisner Rd & Mitchells Mill Rd; Chardon Twp Type: Wires Down – wires down west of wisner on mitchells mill

— Geauga Co. Sheriff (@GeaugaSheriff) September 20, 2018
If it's safe to do so, you can share a photo by either clicking the 'submit photo' button, below, or emailing us at tips@fox8.com
Can't on Ohio on 30 west

Tornado clouds over the fire department in Middlefield today.kinsmen rd.

Tornado clouds over the fire department in Middlefield today.kinsmen rd.

After the Tornado warning expired students came out of sheltered area and saw this.

storm footage

Possible funnel cloud in Middlefield (Sarah Ossler)

Parts o

This is a photo from glen valley, middlefield OHIO

Tree Down

Tree Down

Middlefield, Geauga County damage ( Christine Norton Bennett)

Middlefield, Geauga County damage ( Christine Norton Bennett)

courtesy: FOX 8 viewer Steve Merlene