This is an archived article and the information in the article may be outdated. Please look at the time stamp on the story to see when it was last updated.
NORTH CANTON, Ohio -- It's become a red flag for thieves:  displaying the red flag on a mailbox, indicating there is mail inside for the postal carrier.
Police in North Canton are looking for people who are stealing mail as well as identities.
"We've mailed our letters all the time in the mailbox for bills or whatever and put the flag up and never thought another thing about it," said a 77-year-old woman who does not want us to reveal her name.
She did talk about what happened to her last Monday, when she put her phone bill in her mailbox for the postal carrier to pick up, something she has done for at least 50 years.
"I took a letter out to mail, I mailed it and then I had something else I wanted to mail, so I went back out and the letter was gone, and it wasn't time for the mailman yet," the woman said.
Instead of her mail, there was a flyer inside about flu shots.  North Canton police say a total of five residents have reported similar thefts from their mailboxes in recent days.
"They went to the mailboxes, searched for any personal information about them, here they found in a couple of these incidents a personalized check," said North Canton police chief Stephan Wilder.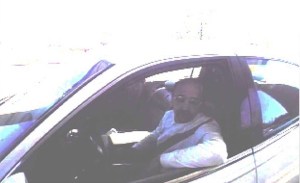 Police released bank surveillance pictures of a man they believe is responsible.  They believe a woman is involved, too, and say they are driving a white Lincoln Towne Car.
Investigators say the thieves would go to the victim's bank, make a deposit using a bogus check, then ask for a portion of the money back.
"If the victim has enough money in the account, 9 times out of 10, I would say, the bank's not gonna ask you, Kevin, or myself for identification," Wilder said to Fox 8's Kevin Freeman.
"I imagine there are people that had their flag up and had things taken that don't even know about," said the woman.
Chief Wilder says although it may be more inconvenient, a safer way to mail your bills is to take it to actually take it to a mailbox or your local post office.
Police hope someone can recognize the man in the picture or the car he is driving.  The woman says she will now change the way she sends out her bills.
"Oh no, that's it, there's no more bills going in that mailbox with the flag up, I'll take them to the post office," she said.
Chief Wilder says stealing mail is a federal crime that the U.S. Postal Service may also investigate.
He says so far, the thieves have stolen several thousand dollars.