This is an archived article and the information in the article may be outdated. Please look at the time stamp on the story to see when it was last updated.
VERMILION, Ohio-- Are you ready for Woollybear? It's the 43rd year for the largest one-day festival in Ohio.
Our Dick Goddard is once again bringing you all the fun from downtown Vermilion. It's coming up this Sunday, Oct. 4.
Check out the list of events and times below:
9am: Kids' Race
10am: Woollybear 500 Caterpillar Race preliminaries with Big Chuck and Lil John
11am: King and Queen Woollybear Costume Judging
12pm: Animal/Pet Woollybear Costume Judging
1:30pm: Woollybear Parade featuring FOX 8 personalities, high school bands and more 
3:45pm: Ace Molar with FOX 8's Todd Meany performs
5pm: Woollybear 500 Caterpillar Race finals/ Official Woollybear Winter Weather Prediction
**Click here for more from the Vermilion Chamber of Commerce**
See the parade route below: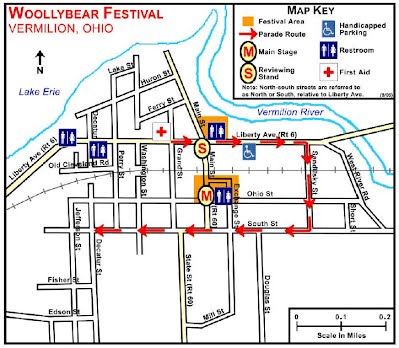 We hope to see you there! **See video of last year's Woollybear Festival in the video above**
**CHECK OUT more on the legendary Woollybear Festival right here**