This is an archived article and the information in the article may be outdated. Please look at the time stamp on the story to see when it was last updated.
AKRON, Ohio-- Aaron Leonard, his brother, Jacob, and their cousin, Kelsey Settles, are among the competitors at the 78th All-American Soap Box Derby.
Gravity racing is not new to the Kentucky family. They have been doing it for years.
"It's kind of a family thing. We have done this forever, and we have been up here since we were little, for eleven years now," said Aaron, who said for much of that time his mother, Connie, had been their biggest fan.
"She'd go with us and was the head cheerleader," said Ron Leonard, Aaron's father.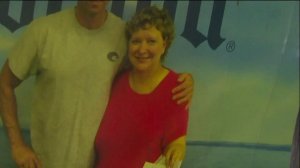 But in 2012, at the age of 39, Connie lost her life to breast cancer. "She was like, 'keep it going,' and you know we did. We have kept it going even though sometimes it gets tough; we keep it going," said Ron.
Racing in Akron this week are Aaron, his brother, and their cousin, who are all racing in memory of Connie.
The boys with decals on their cars that say 'Racing For My Mom.'
Kelsey racing a car that is completely painted in memory of her aunt, including a large pink bow drawing attention to the fight against breast cancer.
"I had the idea for the paint job and my family surprised me with it one Christmas, the Christmas before she died," said Kelsey.
"She was a wonderful person She was like a second mom to me and I love racing for her," she added.
The family said racing not only keeps them close, it helps them better cope with their loss and gives them an additional incentive to win.
It also draws awareness to an important cause.  "It's a sad event, but at least we know we have an angel up above helping us and try to look on the positive side of it," said Kelsey.
*More on the All-American Soap Box Derby here*