This is an archived article and the information in the article may be outdated. Please look at the time stamp on the story to see when it was last updated.
AKRON, Ohio- A ticked-off Zip posted an ad on Craigslist, dripping with sarcasm and stating the University of Akron is for sale.
Recently, the university announced $40 million in cuts, which include eliminating more than 200 jobs.
The ad is signed "President S. Scarborough," and lists the university's highlights like E.J. Thomas Hall, the Goodyear Polymer Center and InfoCision Stadium.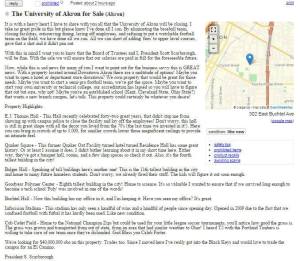 "It is with a heavy heart I have to share with you all that the University of Akron will be closing. I take no great pride in this but please know I've done all I can. By eliminating the baseball team, closing facilities, outsourcing dining, lay off employees, and refusing to put a watchable football team on the field, we have done all we can," the poster writes.
The seller is looking for $40 million or best offer. The ad, which was posted Tuesday night, has been removed.
More stories on the University of Akron here