This is an archived article and the information in the article may be outdated. Please look at the time stamp on the story to see when it was last updated.
NORTHEAST OHIO — Have you ever wanted to see the Northern Lights?  You may get a chance to see them right here in northeast Ohio Friday or Saturday night.
According to the U.S. National Weather Service of Cleveland, the Space Weather Prediction Center has issued a G2 Moderate Geomagnetic Storm Watch.
This means that the Northern Lights may extend down to the Great Lakes region Saturday night.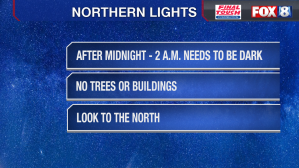 FOX 8 Meteorologist Beth McLeod says areas most likely to see this phenomenon is in Montana, North Dakota, Minnesota, Wisconsin, Michigan and Maine.  It's a possibility in Ohio, but far from a guarantee!  Be aware that all we can do is forecast an elevated potential of seeing them (it's not like a much more definitive weather forecast).
Beth says the conditions Saturday night are looking ideal as we have clear skies.  To see the lights, if it is at all possible, you need it to be dark and to have a view without obstructions.  You also need to look north.
The National Weather Service has provided a map of the areas most likely to see the lights: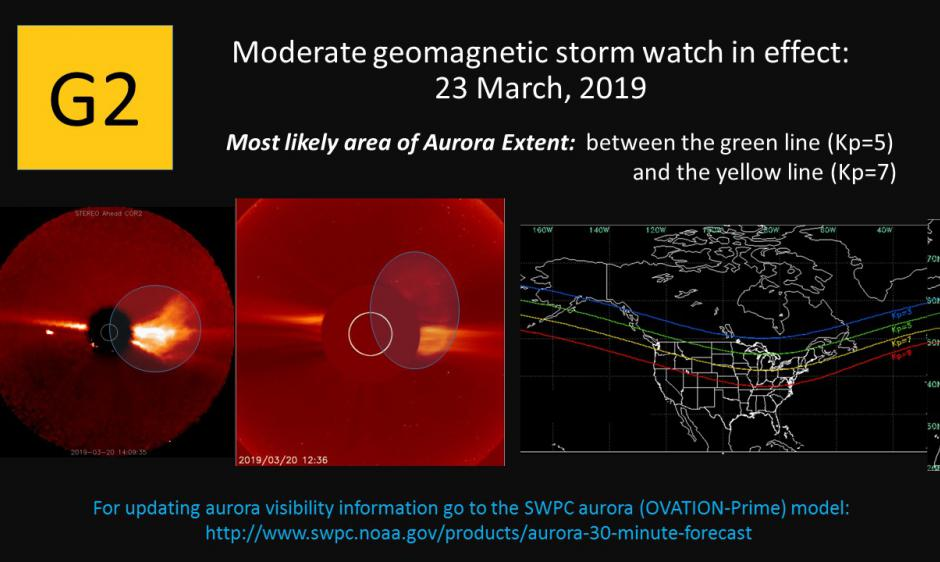 CLICK HERE for the latest information from the National Weather Service on the G2 Moderate Geomagnetic Storm Watch.
Plus, stay up to date with FOX 8's weather team as we keep tabs on the northern lights this weekend both on-air and online, here.
If you are lucky enough to see the Northern Lights this weekend please share your photos with us at tips@fox8.com.