PORT CLINTON, Ohio (WJW)-- The Port Clinton Police Department held a briefing on missing 14-year-old Harley Dilly on Friday.
Harley was leaving for school on Dec. 20 between 6 a.m. and 7 a.m. He was wearing glasses, gray sweatpants, a maroon puffy jacket and black tennis shoes. Port Clinton Police Chief Robert Hickman said he does not have a history of running away.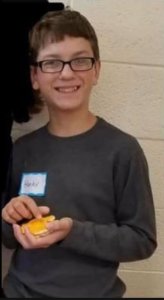 He asked Port Clinton residents to check surveillance video for Harley or anything suspicious.
"Especially in the Port Clinton, Ottawa County area, at night please leave your outside light on so we can get out across to Harley: If you see a light on at a house at night, we don't want you to be scared, we want you to knock on the door and have them call the authorities," Hickman said.
Hickman said they will hold briefings daily at 3 p.m. until Harley comes home.
"Harley is alive and I'm going to believe that until I hear otherwise," he said.
Police said the FBI, U.S. Marshals Service, the Ohio Bureau of Criminal Investigation and National Center for Missing and Exploited Children are assisting in the search. Authorities and volunteers have distributed hundreds of fliers with Harley's photo.
"We're continuing to get tips from all over the United States," Hickman said.
His parents, who are cooperating with police, were clearly distraught when they spoke with FOX 8's Suzanne Stratford. Heather Dilly broke down sobbing and said they haven't slept in days. She asked people to, "Pray, share his picture and keep their eyes open for Harley."
Anyone with information is urged to call the Port Clinton Police Department at 419-734-3121 or National Center for Missing and Exploited Children at 1-800-THE-LOST. There is a reward for tips leading to his return.