This is an archived article and the information in the article may be outdated. Please look at the time stamp on the story to see when it was last updated.
JACKSON TOWNSHIP, Ohio--
UPDATE: Jackson Township Police have confirmed 5-year-old Ashley Zhao was found dead inside the restaurant late Tuesday. No other details have been released. Jackson Township Police, BCI, FBI, and the Stark County Coroner's Office continue to investigate her death.
****Previous story below****
Authorities in Jackson Township are searching for a missing girl Tuesday morning.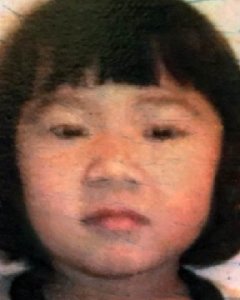 Ashley Zhao was last seen at Ang's Asian Cuisine on Portage Street NW in North Canton at 5 p.m. on Monday. Jackson Township police said they believe the 5-year-old wandered out the backdoor.
The Ohio Attorney General's Office issued a missing child alert for Ashley just before noon Tuesday.
Officers used dogs to search a wooded area behind the restaurant from Portage Street to Mega Street Tuesday morning. The Jackson Township Fire Department used a drone and a ladder truck to help with the search.  BCI is also involved in the search.
If you have any information, please call the Jackson Township Police Department at 330-834-3960 or the Crime Stoppers Tip Line at 330-834-3967.