This is an archived article and the information in the article may be outdated. Please look at the time stamp on the story to see when it was last updated.
CONCORD TWP., Ohio — Bond has been set at $10 million for the man accused in Monday's shooting at a bike trail in Concord Township.
Police identified the suspect accused as Juan Emmanuel Razo, 35.
Razo is also the suspect in the murder of a woman at a Ravenna Road home and in the attempted rape of a 14-year-old girl earlier in the day Monday.
A police report reveals that Razo told authorities on July 7 that he was in the U.S. illegally. The U.S. Border Patrol told FOX 8, "We are looking into the facts of this case."
At Tuesday's press conference, police said they are working with Homeland Security and the FBI to ascertain his legal status.
Police say that at just before 11 a.m. Monday, Lake MetroParks rangers were called to reports of an attempted rape of a 14-year-old female by her uncle at Helen Wyman Park in Concord Township.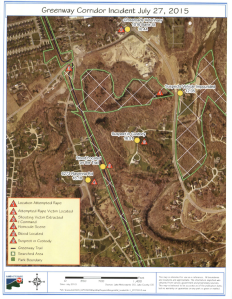 A search of the area commenced. Rangers found and impounded Razo's vehicle and searched his home in Painesville. As they worked to get an arrest warrant, the Lake County Sheriff's Office was called at just before 3 p.m. to reports of a woman shot in the arm on the Greenway bike path.
The woman was identified as a 40-year-old Painesville woman. Her wound was not life-threatening.
As authorities continued their search for Razo, a man called police at about 4:10 p.m. reporting that he'd found his wife, Peggy Kostelnik, 60, dead in their home on Ravenna Road, which is right behind the Greenway trail.
Authorities say she was shot to death and was dead for about an hour before she was found.
At just before 5 p.m., authorities received a call from a resident on Palmer Road saying a man was on his property holding a gun. Officers responded and located Razo. Razo initially pointed his gun at police, and police fired at him. However, Razo took cover behind a large boulder.
He surrendered to police and was taken into custody.
Authorities say Peggy Kostelnik worked for the city of Willoughby. Grief counselors will be on hand for city workers throughout the day Tuesday.
Razo appeared at his arraignment in Painesville on Tuesday; he'll be back in court on Monday.
Stick with Fox 8 and Fox8.com for the latest and click here to read more.