This is an archived article and the information in the article may be outdated. Please look at the time stamp on the story to see when it was last updated.
CLEVELAND, Ohio — Cleveland police are once again asking for the public's help in finding a man who tried to abduct a woman from a convenience store parking lot earlier this year.
Investigators said when they first released pictures several months ago, they received several tips in the case, but none ever led to an arrest.
One surveillance picture shows a man in his 30s with facial hair, about 6'0″ tall, weighing 200 pounds, wearing a black hat, green quilted jacket and blue pants.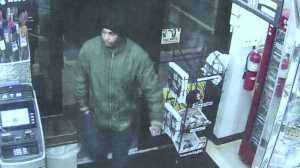 "He grabbed a hold of me and he's like, 'I got a gun,' and his arm was in his jacket, and I didn't believe him, so I kind of laughed at him and shrugged him off, and he grabbed me again and got a little bit firmer," said Tammy Kennedy, the woman he tried to abduct.
Kennedy said just before midnight on Monday, Feb.18, she stopped at a convenience store on West 117th Street. She said she went in to buy something to drink, and the man confronted her when she tried to get into her car.
Fortunately, a customer scared off the suspect.
"This guy, like, yelled or I forget what he did, but he ran into the store and Sam came out, the owner, with a gun, but by this time he was already through the parking lot and gone and everything," she said.
Surveillance cameras also captured the suspect's silver Ford minivan. Police said it has a burned out left tail light. It also has damage on the door and left front panel.
"I have the guy's face in my — I know what he looks like," Kennedy said.
Anyone with information about the vehicle, the suspect or his whereabouts is asked to call Cleveland police at 216-623-5725.