This is an archived article and the information in the article may be outdated. Please look at the time stamp on the story to see when it was last updated.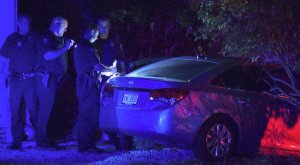 BROADVIEW HEIGHTS, Ohio — Several police departments are searching for a chase suspect who crashed early Wednesday.
Broadview Heights police tried to pull over a gray Chevrolet sedan around 2:30 a.m. when the driver took off, reaching speeds of over 80 miles per hour.
The suspect hit a mailbox and drove through two yards before crashing into a parked car in a driveway on West Wallings Road near Richard Road.
The driver then ran into a wooded area.