This is an archived article and the information in the article may be outdated. Please look at the time stamp on the story to see when it was last updated.
CLEVELAND- Days after a shooting in Cleveland that claimed the life of a 12-year-old boy, we're learning more about Abdel Bashiti who family members describe as a caring son.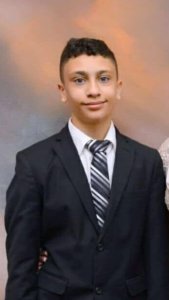 "He still has his life ahead of him, going to high school," said Bashiti's cousin Ali Marar. "You know he was loved by everyone."
Bashiti was laid to rest surrounded by Parma family and friends who remain stunned the straight A student, huge basketball and Cleveland Cavaliers fan was killed so suddenly.
"It's a nightmare for us all," said aunt Rana Bashiti. "We still can't believe that this actually happened to us to our family."
The shooting happened at about 7:30 p.m. Friday area of Buckeye Road and East 116th Street in Cleveland. The Cleveland Division of Police said a large group of juveniles began shooting.
A GoFundMe account was set up to help the Bashiti family, who owns a beauty supply store near the crime scene, pay for funeral expenses. It met its goal in a day. Bashiti was killed when he stepped outside the store.
"In the last 5 years we lost three members to the gun violence," said Rana Bashiti. "My uncle my cousin now my nephew."
Five others, all males and all from Cleveland, were hurt in the shooting. A 15-year-old suffered a gunshot wound to the back. His family said he remains hospitalized and is on breathing machines.
The police report described the rest of the injures. A 14-year-old was shot in the groin, another 14-year-old was shot in the right leg, a 16-year-old was shot in the calf and a second 16-year-old was shot in the right side of his head. They were all taken to University Hospitals Cleveland Medical Center.
Cleveland police said they do not believe this was gang related. Monday night, investigators said a 15-year-old suspect was taken into custody; a warrant is out for a second juvenile suspect.
Anyone with information is asked to call the Cleveland Division of Police Homicide Unit at 216-623-5464 or Crime Stoppers of Cuyahoga County at 216-252-7463.
Continuing coverage of this story here