This is an archived article and the information in the article may be outdated. Please look at the time stamp on the story to see when it was last updated.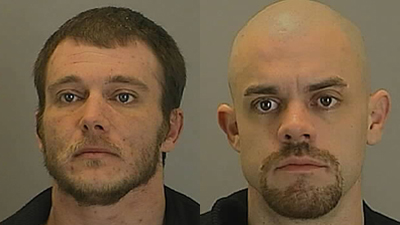 Police in Akron arrested two men late Saturday night who are accused of running a meth lab inside a home where a seven-year-old girl slept.
The Akron Police website shows that the men, David R. Johnson, 29, of West Cuyahoga Falls Avenue and Ronald R. Noland, 29, of Albrecht Avenue, were taken into custody after a working meth lab was discovered on West Cuyahoga Falls Avenue.
Police received calls from residents in the area claiming that the odor of chemicals was prevalent outside the home.
When officers went to the home they observed a fan in the second story bedroom window being used for ventilation.
According to the website, officers performed a search of the residence and found a working meth lab in the second story bedroom. Officers also discovered a seven-year-old girl sleeping in the house. She was taken from the home by authorities and placed in the custody of the Summit County Children Services.
Both Johnson and Noland have been charged with numerous crimes including illegal manufacturing of methamphetamine and endangering children.
Both remain at the Summit County jail awaiting their initial court appearance.