This is an archived article and the information in the article may be outdated. Please look at the time stamp on the story to see when it was last updated.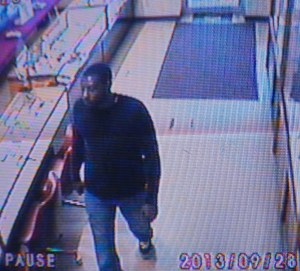 CLEVELAND — A man spent over three hours looking at diamond wedding sets in a jewelry store before he took off with $16,000 worth of merchandise in the form of five rings, police confirmed.
It happened Saturday at Young's Jewelry on Puritas Avenue in Cleveland.
The man, who was in the store from about 10 a.m. until 1:20 p.m., was caught on surveillance video.
"With any luck, somebody will see his photo and be able to identify him and get ahold of Cleveland PD and we'll be able to get this guy caught," said Aladar Solymosi, the co-owner of Young's Jewelry.
The Cleveland Division of Police said he is in his 20s or early 30s, 5′ 10" tall, about 160 pounds with brown hair and brown eyes.
He also had a "No Play" tattoo on his hand.
Witnesses at the jewelry store said he drove away in a small black car.
"He was very polite, he was very personable, spent a long period of time talking, asking about customizing jobs, modifying some work, all kinds of normal customer type questions," Solymosi said.
He added the man even patiently waited for assistance while employees took care of other customers during the time he was in the store.
Solymosi told Fox 8 News an incident like this has never happened at the business.
Anyone with information should contact the Cleveland Division of Police.