This is an archived article and the information in the article may be outdated. Please look at the time stamp on the story to see when it was last updated.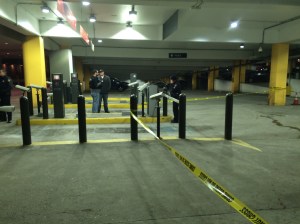 CLEVELAND, Ohio — Police say a man was shot in the hand and robbed this morning in a parking garage.
It happened at about 5:40 a.m. at 2152 Ontario Street, which is a parking garage near the Horseshoe Casino.
Officers were called there to reports of shots fired and a male shot. When they arrived, they found a 36-year-old male with a gunshot to his hand. He was taken to the hospital for treatment.
Police say the victim went to the casino in the company of the suspect and two females. The victim said he'd met the suspect earlier at a strip club. During the course of their time at the casino, the victim said he won money and left the casino with the suspect.
The two got into the suspect's silver Dodge Ram pick-up truck, and that's when the suspect pulled a gun on the victim and said, "Give me all your bread."
The victim gave him the money and got out of the truck. He then heard two shots and realized he'd been hit on his hand.
The suspect drove north on Ontario. He reportedly took $2,600 to $4,600.
The suspect is described as being a black male, 5'9″ tall with a heavy build, facial hair and a gray jogging suit.
The Horseshoe Casino released the following statement about the incident:
"At approximately 5:30 a.m. this morning, two men who had come to the casino together, left the casino and began arguing. While in the parking garage, one man allegedly shot the other in the hand. Horseshoe security and Cleveland Police were on site and immediately responded to the incident. The victim sustained a non-life threatening injury and was transported to the hospital.
The safety of our team members and guests is our top priority. We are fully cooperating with the authorities on the investigation. Horseshoe Casino remains open for business."
Stick with Fox 8 and Fox8.com for more.