This is an archived article and the information in the article may be outdated. Please look at the time stamp on the story to see when it was last updated.
CLEVELAND, Ohio — Cleveland police are looking for the robbers who took an ATM during an early morning smash-and-grab.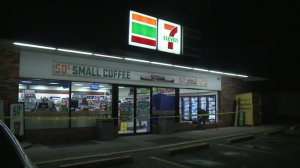 It happened around 2 a.m. at the 7-Eleven on Rocky River Dr. near Puritas Ave.
Police said the robbers smashed into the building, took the ATM, and drove off.
They didn't get very far.
The van they used for their getaway vehicle went up on a curb and crashed into a pole on Clark Ave. in Tremont. That's about 8 miles from the scene of the robbery.
Police said about five people inside the van ran off. None of them were captured.
Police said the ATM was still in the van.