This is an archived article and the information in the article may be outdated. Please look at the time stamp on the story to see when it was last updated.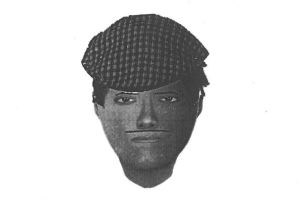 DOVER, Ohio — Police in Dover are asking for the public's help in finding a man who allegedly tried to abduct a boy earlier this month.
The incident happened on April 1 in the area of E. Fourth Street and Lincoln Avenue.
Dover police say a 10-year-old boy was walking home from an after-school event about 4:30 p.m., when a man grabbed him and dragged him about 10-12 feet into the street.
The boy told police he got away from the man by pulling away and kicking him.
Investigators describe the suspect as being black, 5'9″ – 6'1″, and about 42 to 45 years old. The man had a thin build, with blue or turquoise eyes and short brown hair. He was wearing yellow and gray shoes with a black beret.
In addition to the suspect, police are looking for a red Jeep, with a black top and a spare tire on the rear. That's the vehicle the suspect is believed to have driven away from the scene.
The Ohio Bureau of Criminal Investigation has released the above sketch of the suspect based on the boy's description.
Anyone with information is asked to call the Dover Police Department at (330) 364-5533.
Stick with Fox 8 News and FOX8.com for updates as they become available.