WILLOUGHBY HILLS, Ohio (WJW)-- Police say they believe they have identified a suspect vehicle involved in a hit-and-run Thursday that seriously injured a local woman as she was out walking her dog, leaving her unconscious alongside Orchard Drive in Willoughby Hills.
Police late Friday confirmed they have impounded a suspect vehicle and are close to identifying the driver, but as of 4 p.m. Friday no charges have yet been filed.
Police were looking for a 2005-2009 Chevrolet Equinox, silver or gray in color with damage to the front end and a missing bumper.
A 64-year-old woman was hit by the vehicle at just after 6 p.m. Thursday.
Arrangements were made with Metro Life Flight to fly her to MetroHealth Medical Center because of the seriousness of her injuries, but Willoughby Hills Fire Chief Robert Gandee said before she boarded the helicopter she had one very urgent request.
"She was obviously in a lot of pain but she was very, very concerned about her dog and we knew that we were going to do whatever we can to find her dog because, you know, while she is in the hospital working with her injuries and trying to recover from those she doesn't want to have to be worried about her dog," said Gandee.
Firefighters, along with members of the Lake County drone team, the assistant fire chief from nearby Willoughby and volunteers, searched the area on foot looking for the young Malamute, named Vail, who was adopted from a rescue in Colorado.
"My husband and some of the drone team members had also seen him coming down and back up and around and he'd always end up in the back so we were not going to stop until at least we made sure he was safe so that's one less thing the patient didn't have to worry about," said Bridgette Gandee, who helped with the search.
Among the volunteers was former Willoughby Hills Councilman John Plecnik.
"He (the fire chief) knows I'm a dog lover and he just thought, 'Do you have some meat? Do you have some treats,' because we need to try and lure the dog; the police had seen him running around. As luck would have it I had a pot roast cooking so I cut it in half brought it with me," said Plecik.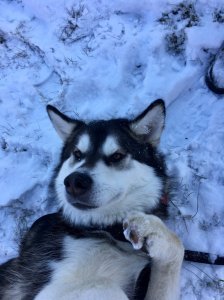 "We were trying to look for dog bones or something but it was getting late and we didn't have anything to bring so he had some fresh meat and sure enough the dog ran over to where it was outside and had sniffed it and  I think was getting tired of all the running around," said Gandee.
Vail was eventually lured inside his own home, but Gandee said he has committed to other family members that the fire department will help watch the dog while family stays with the victim, who was undergoing surgery on Friday.
If you have any additional information on the hit-and-run, you're asked to please call the Willoughby Hills Police Department Detective Bureau at 440-942-9111.