This is an archived article and the information in the article may be outdated. Please look at the time stamp on the story to see when it was last updated.
EAST LIVERPOOL, Ohio — A K-9 officer in eastern Ohio is in need of a prosthetic after an injury cost him his leg.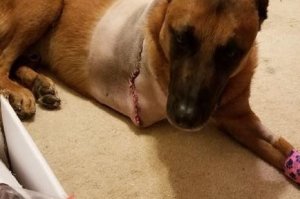 According to the GoFundMe page, East Liverpool Police Department's senior K-9, 7-year-old Ivo, went swimming in a creek after the end of his most recent training earlier this year.
Ivo was reportedly playing fetch with one of his favorite toys in the water when his foot got caught.  However, Ivo kept running even though he was stuck, causing his leg to snap.
ELPD said Ivo was about halfway into the water and struggling to swim back to shore.  His handler thought he was going to drown and jumped in after him.
His handler reportedly transported Ivo to a nearby veterinarian clinic, where they gave him medication and an x-ray.  The x-ray revealed that the break in Ivo's leg was bad and could not be fixed at that particular clinic.
ELPD said Ivo was transported to MedVet in Akron, where his handler learned that Ivo's break was one of the hardest to fix.  His leg was broken was just above his elbow.
The handler reportedly told the vet that returning Ivo to work was a priority, however the vet explained that there were three possible outcomes of Ivo's surgery — 1) fixing his leg, 2) Ivo being unable to work and 3) amputation.
Ivo's handler opted to have his leg repaired.  Ivo had 2 plates, 8 pins and 20 screws installed in his leg.
Unfortunately, according to ELPD, two weeks into recovery Ivo showed signs of nerve damage.  Two weeks after that, Ivo was diagnosed with infection in his bone.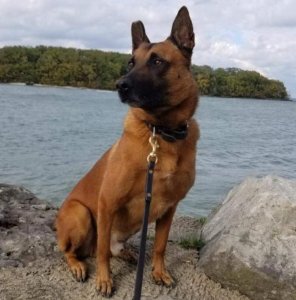 The vet reportedly tried to combat the infection, however the treatments were ineffective and Ivo's leg had to be amputated.
Now, ELPD and Ivo's handler are raising funds to get a prosthesis for Ivo.  He is in retirement and has been getting along fine with three, but his handler worries about the stress that is being placed on his hips and other front legs.
According to the GoFundMe, they are looking to raise $10,000.  You can learn more about Ivo's journey or contribute to his fund here.