This is an archived article and the information in the article may be outdated. Please look at the time stamp on the story to see when it was last updated.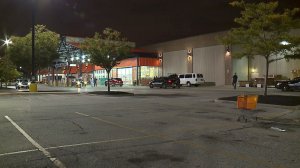 CLEVELAND, Ohio — Cleveland police are trying to figure out exactly where a shooting that sent one man to the hospital happened.
Officers were called to the Home Depot parking lot in Steelyard Commons around 1 a.m. Wednesday. That's where they found a man inside an SUV with gunshot wounds. The SUV was also hit with bullets.
The man, who was a passenger in the vehicle, was taken to MetroHealth Medical Center. His name and condition were not immediately available.
The vehicle was towed from the scene for processing and police were talking to the driver of the SUV.
Officers said they weren't sure where the shooting happened, but were searching the area of I-490 and E. 55th St. for evidence.