This is an archived article and the information in the article may be outdated. Please look at the time stamp on the story to see when it was last updated.
MONTVILLE, OH — The Montville Police Department is crediting FOX 8 viewers for identifying two men allegedly involved in an armed robbery.
The Medina County Grand Jury has indicted two suspects in connection to the robbery at Buehler's Market in Montville Township in August.
Surveillance video shows a young man looking around, walking up one aisle and down another, empty-handed. After he walks out of the store, he robbed a female shopper of her purse at gunpoint in the parking lot, police said.
Sgt. Matthew A. Neil from the Montville Police Department tells FOX 8 News they received tips from viewers within hours of the surveillance video being released.
** Click here to watch the surveillance video **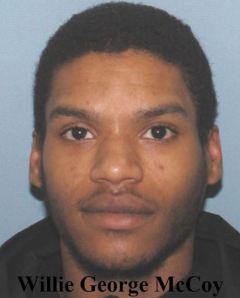 Kevin Lamont Tate Jr., of Parma, is in custody. Police believe he drove the getaway vehicle.
Authorities are still looking for Willie George McCoy, of Cleveland. Police say he is the man seen in surveillance video before approaching the victim in the parking lot.
During the investigation, Montville police found the suspects traveled to Lyndhurst where they were involved in a second armed robbery that night. Police also say McCoy is suspected of being involved in an armed robbery and attempted murder in
Cleveland Heights on August 28.
Anyone with information can contact the Montville Police Department, Cleveland Heights Police Department or the Lyndhurst Police Department.
Click here to read more on this story.