This is an archived article and the information in the article may be outdated. Please look at the time stamp on the story to see when it was last updated.
CLEVELAND - Police tell Fox 8 that they are investigating after a 5-year-old boy was killed during a drive-by shooting.
The shooting happened in the 2300 block of Louise Harris Drive in Cleveland around 5 p.m.
Cleveland police say a preliminary investigation reveals that witnesses report a vehicle traveling on that street slowed down and shots were fired from the vehicle.  Police are searching for a dark blue or grey Pontiac.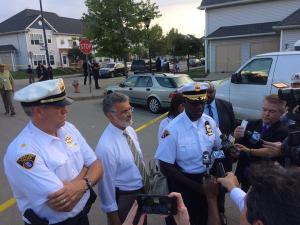 Two men were detained and are being questioned by investigators.
There is a large police presence at the scene; Cleveland Mayor Frank Jackson is also there. Cleveland Police Chief Calvin Williams said he's asking for the community to help solve this tragedy.
Stay with Fox 8 and Fox8.com for updates.