This is an archived article and the information in the article may be outdated. Please look at the time stamp on the story to see when it was last updated.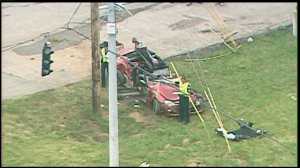 MONTVILLE TOWNSHIP, Ohio — A routine traffic stop ended in a serious accident Thursday morning in Medina County when the driver of a car police had pulled over decided to take off.
Detectives tell Fox 8 News officers were attempting to pull over an orange Toyota Scion around 8:30 a.m. The officer approached the vehicle and the suspect drove away.
Police say the driver weaved in and out of traffic on Windfall Road. The suspect attempted to pull around traffic at a stoplight when the car smashed into a city service truck at the corner of Windfall Road and Route 18.
Officers have not said why the suspect decided to flee.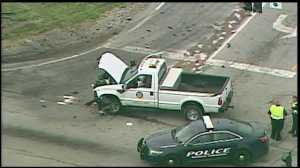 The driver of the car was taken by helicopter to the hospital. The city service employee was transported by ambulance to Akron General. Their identities have not been released.
This is a developing story. Stay with Fox 8 News and Fox8.com for updates.