This is an archived article and the information in the article may be outdated. Please look at the time stamp on the story to see when it was last updated.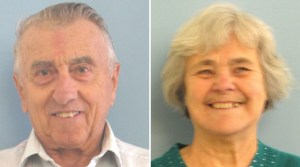 COSCHOCTON, Ohio -- Robert R. Clark has pleaded guilty to several charges in the murder of an elderly Strasburg couple.
Clark pleaded guilty to a total of seven charges, including aggravated murder, aggravated robbery, kidnapping and aggravated arson.
In exchange for his plea, death penalty specifications and gun specifications have been removed from those charges. Seven additional charges were also dropped.
He was sentenced to life in prison without the possibility of parole on the aggravated murder charges.
**To watch video of his plea hearing, click here**
Prosecutors say they consulted with the couple's family, including their four children, in plea negotiations.
Clark, 30, previously pleaded not guilty to charges to charges in the case.
Doyle Chumney, 88, and Lillian Chumney, 79, were reported missing on Jan. 21 when their daughter discovered their home in Strasburg had been ransacked. The next day, their remains were found in their burned car in Coschocton County.
Clark was caught after a series of armed robberies and a police chase in Arizona.
Codefendant 21-year-old Jeffery Stewart previously also pleaded not guilty to charges in the case.