This is an archived article and the information in the article may be outdated. Please look at the time stamp on the story to see when it was last updated.
LAKEWOOD, Ohio – Pit Bull lovers gathered in Lakewood this morning to march against the city's ban on that breed.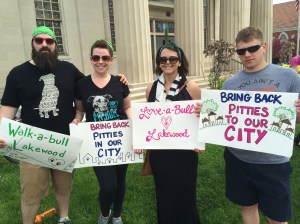 The 2nd annual Pittie Parade started at the Emerald Necklace Marina, continued across Detroit Road and ended at the Quaker Steak and Lube on Detroit Avenue. Participants, human and canine, marched to peacefully protest Lakewood's BSL, or breed specific legislation, against pit bulls, which went into effect about 7 years ago.
The event ended with a "Pittie" party, and all dogs and their owners who marched were encouraged to wear bandanas to show support for the parade.