This is an archived article and the information in the article may be outdated. Please look at the time stamp on the story to see when it was last updated.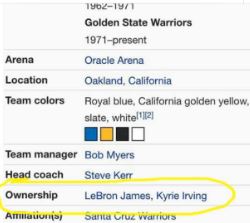 CLEVELAND, Ohio– The Cleveland Cavaliers and Northeast Ohio are still celebrating the team winning the NBA Championship.
As you know, they beat the Golden State Warriors in Game 7 Sunday night; making it even more wonderful, they came back after being down 3-1 in the series.
Their victory was taken even a step further on Wikipedia when someone posted under ownership: LeBron James, Kyrie Irving.
The moment for Cavs fans didn't last too long; the rightful owners are now listed on the page.
**More coverage on the Cleveland Cavaliers**