This is an archived article and the information in the article may be outdated. Please look at the time stamp on the story to see when it was last updated.
CLEVELAND - Two couples are sharing one incredible story of paying a life-saving gift forward.
Friday, patients of the first three-way kidney swap performed at the Cleveland Clinic met for the first time, exchanging hugs, flowers, tears and laughter.
"I can't even put it into words how grateful I am and how much it's transformed my life," said Nancy Botbyl.
Nancy and Gregg Botyl were married just days before a life-altering surgery.
"Twenty six years is when they diagnosed me with it and my health just steadily declined," said Botyl.
Botyl was diagnosed with a genetic disease that continued to wreak havoc on her kidneys and nearly changed the course of her life.
"The wait time for the cadaver kidney is 4-10 years," said Botbyl. "So that was pretty daunting and trying to decide if I wanted to go on dialysis or let nature take its course."
Botbyl's husband, Gregg, wanted desperately to be a perfect match but when doctors informed him he could not donate to his wife, he decided to donate to a patient on the National Kidney Registry. He says his kidney eventually went to a patient on the west coast.
His act of kindness was later repaid, when Botbyl received a kidney from a living donor also in northwest Ohio. Danae Labocki, married to her husband David of 16 years, was also tested, and hoped to become a donor but learned she was not a match.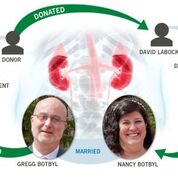 "It's scary," said Labocki, trying not to cry. "You just feel like, is he going to get another kidney?"
David Labocki, 44, a father of three and ill since 18 years old, says he was becoming more sick with each passing day. Nevertheless, he says his belief in a higher power carried him through difficult times.
"Keep the faith and understand that you just never know what can come out of a situation," said Labocki. "I had a four percent chance of getting a kidney and it worked out for me."
Labocki received the life-changing donation thanks in part to his wife's donation to Botbyl. The doctor behind the clinic's first three-way kidney swap, Dr. Alvin Wee, wants patients to know a key fact about organ donation.
"Just because you are not compatible with someone does not mean you cannot be a living donor," said Dr. Wee. "You hear a lot of bad news but with transplants you see tragedy but out of tragedy people try to make good things out of it."
It's the gift of a second chance and for both couples who married in sickness an opportunity to enjoy the rest of their lives together in health.
Read more on the National Kidney Registry.