This is an archived article and the information in the article may be outdated. Please look at the time stamp on the story to see when it was last updated.
PARMA, Ohio - Parma police tell Fox 8 that they are investigating an online threat made about Parma High School on Wednesday.
The threat, posted on an unidentified Snapchat account, began circulating throughout the district via social media. Many concerned parents have reached out to Fox 8 about it.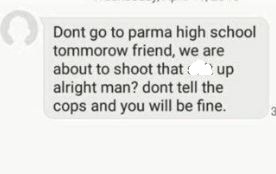 Police say that the matter is currently under investigation and they are working to identify the source of the post. They stress that they take all threats to the schools seriously and will be taking "every precaution" to ensure the safety of the students.
Police also added that school authorities had been notified. An email from the school's principal was sent to out Wednesday evening. Leo Spagnola said that as soon as they were made aware of it, they contacted police.
In the email, Spagnola said that there was no definitive evidence that the threat was a credible one, but that he would update the Parma Senior High School community as soon as more information became available.
The school will remain open Thursday and police will have extra security on hand.