This is an archived article and the information in the article may be outdated. Please look at the time stamp on the story to see when it was last updated.
PARMA, Ohio-- The Parma man accused of killing his young son appeared in court Wednesday afternoon.
Jason Shorter, 41, faces one count of aggravated murder for the death of 21-month-old Nicholas Lawrence Shorter. The case remains under investigation and more charges are possible.
Jason Shorter was released from MetroHealth Medical Center, where he was under police guard, Tuesday night. During his hearing in Parma Municipal Court, his bond was set at $1 million.
An investigator described the crime as "ghastly" to the judge and said it could be a capital case.
On Saturday, Shorter walked into the lobby of the Parma police station and told the officer he wanted to turn himself in for an, "attempted murder, suicide." Police said he had self-inflicted cuts on both wrists and a self-inflicted stab wound to his chest.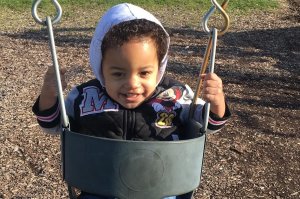 He told officers his son was in his car parked in the visitor's parking lot. Police found the boy in the trunk of the car. He was unresponsive, not breathing and appeared to have been stabbed in the chest, according to Parma police.
The toddler was taken to University Hospitals Parma Medical Center, where he was pronounced dead.
There is now a GoFundMe account in Nicholas' name. It's already raised more than $13,000.
*Editor's note: This story has been updated to reflect updated information from police that the child's age was 21 months old; earlier, authorities reported the child was 18 months old.**
Continuing coverage of this story here