This is an archived article and the information in the article may be outdated. Please look at the time stamp on the story to see when it was last updated.
PARMA, OH –  The Unity Catholic Federal Credit Union was robbed Saturday by a man who jumped over the teller counters in order to get to the money.
The suspect entered the bank off of Ridge Road and jumped the counter. He demanded that the tellers open their money drawers and stole from four of them. He ran out of the rear bank door and may have left the scene in a Pontiac Grand AM that was parked in a nearby parking lot. He did not say that he had a gun, and no one noticed a weapon.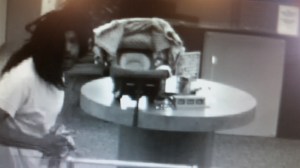 The suspect is described as a black male, with a medium complexion and a short goatee. He has brown eyes,  an athletic build and weighs about 200 pounds. He has very thick coarse hair, which may have been a wig with long dreadlocks, and was wearing a white t-shirt, black sweat pants and white tennis shoes.
The Parma police and the Cleveland FBI are asking the public for assistance. Tips can remain anonymous and reward money is available for information leading to the successful identification and prosecution of the individual responsible. Tips can be provided to the Parma PD or the FBI at 2165221400.