This is an archived article and the information in the article may be outdated. Please look at the time stamp on the story to see when it was last updated.
MASSILLON, Ohio –  A $100,000 bond was set for a woman accused of killing her husband.
Colleen McKernan, 26, appeared in Massillon Municipal Court Friday morning.  Bond was originally set at $1 million, but was reduced after McKernan' s parents told the judge she is an Air Force veteran.
As a condition of bond, she must be on house arrest.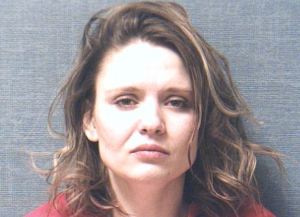 Massillon police said McKernan shot and killed her 29-year-old husband, Robert, on New Year's Eve.
Moments after the shooting, McKernan called 911 and said she shot her husband. She also said she was performing chest compressions on him.
In the 911 calls released Friday, McKernan is heard telling the dispatcher: "I'm so sorry…I tried doing CPR…he hit me, he hit me and I [expletive] shot him…He's going to die. He's dead."
Dispatcher: What is your name?
McKernan: Colleen McKernan, 1, 2, 3 (doing CPR).
Dispatcher: Is he breathing?
McKernan: He's not, I tried doing CPR, but he's dead.
Dispatcher: Where is the gun?
McKernan: I don't know…I'm not going to hurt anybody when they come here. I don't even know where it is.
Dispatcher: What is his name ma'am?
McKernan: Robert McKernan.
Dispatcher: What is your name?
McKernan: Colleen McKernan.
Dispatcher: Can you tell me where you set the gun down at?
McKernan: Yes, yes, I can. I'm looking at it right now. It's by the TV. I'm not going to touch it. He put his hands on me, for the last time, and I'm drunk. I didn't mean to do it."
McKernan: I've called before, and they never came.
McKernan: Can I continue to do CPR?
Dispatcher: Yes, you can continue to do CPR.
Police said Robert McKernan was shot in his face and torso area. Colleen McKernan told officers she shot her husband after he was coming toward her.  They say she didn't have any visual signs of injuries.
Police said they believe alcohol was involved.
McKernan is due back in court in the next few days.