This is an archived article and the information in the article may be outdated. Please look at the time stamp on the story to see when it was last updated.
CLEVELAND -- ODOT reports that I-90E has reopened after a group of passing motorists stopped to help a truck driver trapped in his overturned tanker.
The tanker truck rolled over on I-90 eastbound between W. 44th St. and W. 41st St. just after 2 a.m. Friday.
As of about 6:45 a.m., one eastbound lane of I-90 had reopened. Three lanes remained closed at W. 44th St until about 11:30a.m.
A FOX 8 producer came upon the scene before rescue crews arrived.
He witnessed several motorists stop to make sure the driver, who was trapped in the cab of the tanker, was alright.
Two men smashed the windshield and helped the driver, who appeared to be unhurt, get away from the wreckage.
Kian Johnston was one of them: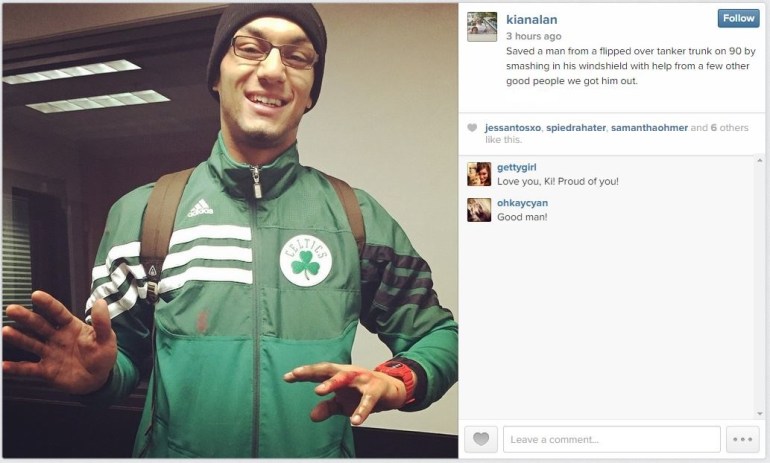 "I was on my way to work. I rolled up on the scene and I saw a couple of people on the side of the road with their hazards on," Johnston said. "I didn't actually see the tanker at first, because it was pretty dark. I stopped when I did see the tanker."
He said two people were already on the scene calling 911 and told him the driver was trapped in the cab.
Johnston was concerned about the fuel leaking from the truck.
"My main concern was ... is this thing going to go up and the guy's still in there," he said.
He said another man began to try to shatter the windshield to free the driver.
"I went around the backside of the truck and found a good piece of metal, a pretty heavy piece of metal, and started smashing it. The guy from the inside starting smashing it out. We got him out in time fortunately, nothing erupted in flames or anything," Johnson said. "It was pretty scary."
"We got him over to the side of the road. Gave him a big hug and told him he was okay," Johnston said.
Johnston said he was bleeding pretty bad from his hand, but didn't think he would need stitches.
"I'm just glad he's alright," Johnston said. "To the other guy who helped me get him out, I don't know who he was, we shook hands after it, I'm glad me and him were there to save him."
Stay with FOX 8 and FOX8.com for the latest on this developing story.