This is an archived article and the information in the article may be outdated. Please look at the time stamp on the story to see when it was last updated.
NEW YORK – Um, well…..someone at the NBA may have just been "practicing" on the site's Facebook event page and they hit publish. Or they are really big Golden State fans. Or they are able to see into the future.
Whatever the reason, on Sunday morning, the NBA had our Cleveland Cavaliers playing against the Golden State Warriors in game 1 of the NBA Finals on June 2. And then again on June 5 in game 2.
Of course, Golden State isn't in The Finals yet.  The team faces off against the Oklahoma Thunder Monday night in game 7 of the Western Conference Championships. Whoever wins that will go to the Finals.
Someone with very keen eyes at SB Nation noticed the posting, and it has NBA "conspiracy" theorists gleefully sharing the picture. The same thing goes for very angry Oklahoma Thunder fans, but they are not gleeful. At all.
A quick check of the page later revealed that the NBA has deleted the entire rest of the NBA playoffs, although we're pretty sure that will change again soon.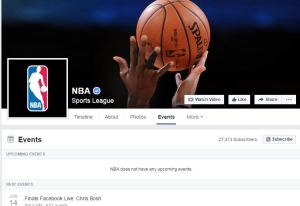 In any case, Cavs fans KNOW FOR SURE that our team IS playing on June 2 in Game 1 of the NBA Finals. So we're good.
#Allin216
Go Cavs!
Beat……whoever.