This is an archived article and the information in the article may be outdated. Please look at the time stamp on the story to see when it was last updated.
CLEVELAND  – Protestors were gathered near East 24th and Euclid Avenue on Sunday near the Cleveland State University campus after a Black Lives Matter convention.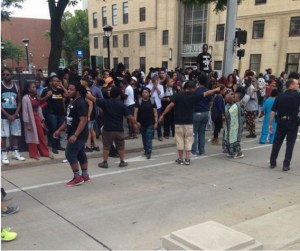 Cleveland EMS confirms that someone on the scene was sprayed with mace. EMS said there are currently no injuries, but are remaining on scene.
Cleveland police confirmed they are on scene but RTA police are the primary law enforcement agency handling it.
Different social justice groups and coalitions were here from around the country, not just Black Lives Matter.
This situation unfolded as people were waiting for buses to leave the area.
The RTA released the following statement after the incident:
At 4:40 p.m. today, July 26, Transit Police officers on routine patrol peacefully removed a intoxicated 14-year old male from a bus. Police said the juvenile was intoxicated to the point where he was unable to care for himself.

Police escorted the youth from the bus to a bus shelter on Euclid Avenue at East 24th Street. Transit Police followed normal procedure, which is — after police collect pertinent information, juveniles are transported to police headquarters to await release to a parent or legal guardian.

Within minutes, a large crowd had gathered. For the safety of the juvenile, Transit Police moved him from the open shelter area into a police cruiser. The crowd then surrounded the car, and attempted to remove the juvenile from the car. By this time, several other law enforcement agencies had also responded.

The crowd kept the police car from leaving the area. A Transit Police officer used a general burst of pepper spray in an attempt to push back the crowd, to no avail.

The juvenile was escorted from the police cruiser to a waiting EMS unit to be examined at the scene. He was then released to the custody of his mother at 5:47 p.m.
The incident is under investigation.
RTA will update this statement as more facts become available.