This is an archived article and the information in the article may be outdated. Please look at the time stamp on the story to see when it was last updated.
WEST JEFFERSON, Ohio– The Ohio State Highway Patrol made a sizable drug bust in Madison County on Friday.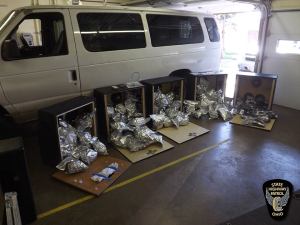 Troopers pulled over a van for following too closely on Interstate 70 at about 10:45 a.m. A drug-sniffing dog prompted them to search the vehicle.
According to the patrol, they found 70 pounds of marijuana and 1,000 jars of hash oil inside. The street value is about $350,000. The highway patrol also seized $7,569 in cash.
The driver, Walter Delgado, 29, of Harbor City, California, and his passenger, Anthony Jochum, 26, of Cleveland, were arrested. The pair are charged with possession and trafficking in marijuana, and possession of criminal tools.