This is an archived article and the information in the article may be outdated. Please look at the time stamp on the story to see when it was last updated.
XENIA, Ohio– Investigators released images of a facial reconstruction on Thursday in hopes of identifying a woman whose remains were found in Greene County.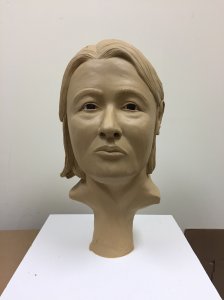 A forensic artist with the Ohio Bureau of Criminal Investigation created the clay model of this Jane Doe.
The skeletal remains were discovered in a wooded area of Spring Valley Township on May 1. The Ohio Attorney General's Office said the body had been there for three months to a year. Her cause of death is unknown.
"This was someone's daughter, someone's family, someone's friend, and she deserves to be identified," said Ohio Attorney General Mike DeWine, in a news release on Thursday. "Now that we have her face, we hope we can soon determine her name. It is our sincere hope that this model looks familiar to someone."
Investigators said they believe the woman is Caucasian, between 25 and 50 years old, and between 5 foot 5 and 5 foot 10. She was wearing a medium-sized white tank top with stripes and black sweatpants with a pink stripe up the leg.
The Greene County Sheriff's Office and BCI Missing Person's Unit tried DNA testing, dental records and tattoo records, but were unable to find any answers.
The Ohio State University helped BCI with the model by using a 3D printer. Forensic artist Samantha Molnar then used clay to construct the woman's features over the printed skull. The attorney general's office said the artist gave the model an average hairstyle because it is impossible to know what her hair looked like.
Anyone with information should call the Greene County Sheriff's Office at 937-376-5111 or BCI's Missing Persons Unit at 855-BCI-OHIO.