This is an archived article and the information in the article may be outdated. Please look at the time stamp on the story to see when it was last updated.
(STACKER) — As has been true throughout America's COVID-19 history, every state—and every county therein—has its own COVID-19 story, driven by local policies and behaviors. The United States as of July 14 had reached 608,013 COVID-19-related deaths and nearly 34 million COVID-19 cases, according to Johns Hopkins University. Amid the grim numbers come two bright spots: As of Feb. 2, more Americans had been vaccinated for COVID-19 than had been infected; and since then, rolling averages for case counts and deaths have been on the decline.
Stacker compiled a list of the counties with highest COVID-19 death rates in Ohio using data from the U.S. Department of Health & Human Services. Counties are ranked by the highest death rate per 100k residents as of July 8, 2021. Keep reading to see whether your county ranks among the highest COVID-19 death rates in your state.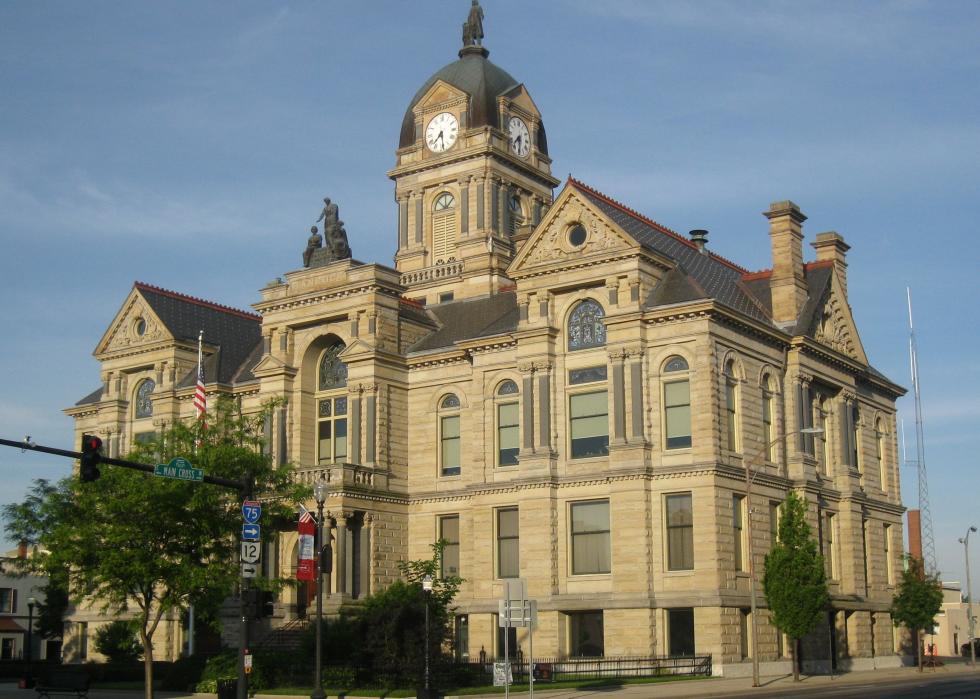 1 / 50 Ruhrfisch // Wikimedia Commons
#50. Hancock County
– Cumulative deaths per 100k: 177 (134 total deaths)
— 1.7% more deaths per 100k residents than Ohio
— #1,719 highest rate among all counties nationwide
– New deaths per 100k in the past week: 0.0 (0 new deaths, 0% change from previous week)
– Cumulative cases per 100k: 9,253 (7,012 total cases)
— 2.8% less cases per 100k residents than Ohio
– New cases per 100k in the past week: 4 (3 new cases, -70% change from previous week)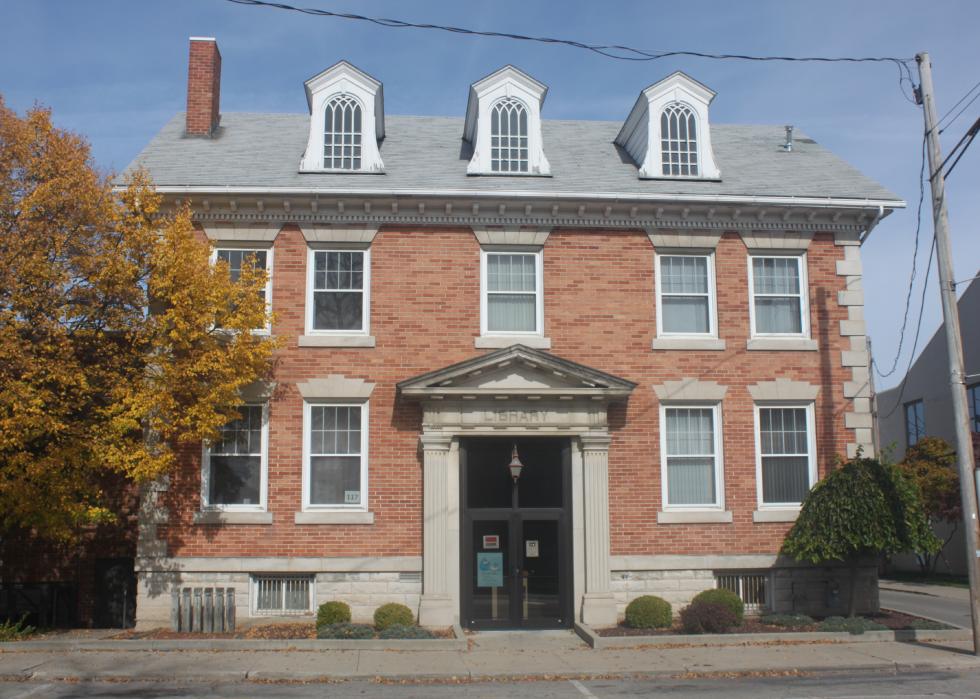 2 / 50 Darren56brown // Wikimedia Commons
#49. Fulton County
– Cumulative deaths per 100k: 178 (75 total deaths)
— 2.3% more deaths per 100k residents than Ohio
— #1,715 highest rate among all counties nationwide
– New deaths per 100k in the past week: 0.0 (0 new deaths, 0% change from previous week)
– Cumulative cases per 100k: 10,279 (4,330 total cases)
— 8.0% more cases per 100k residents than Ohio
– New cases per 100k in the past week: 7 (3 new cases, -40% change from previous week)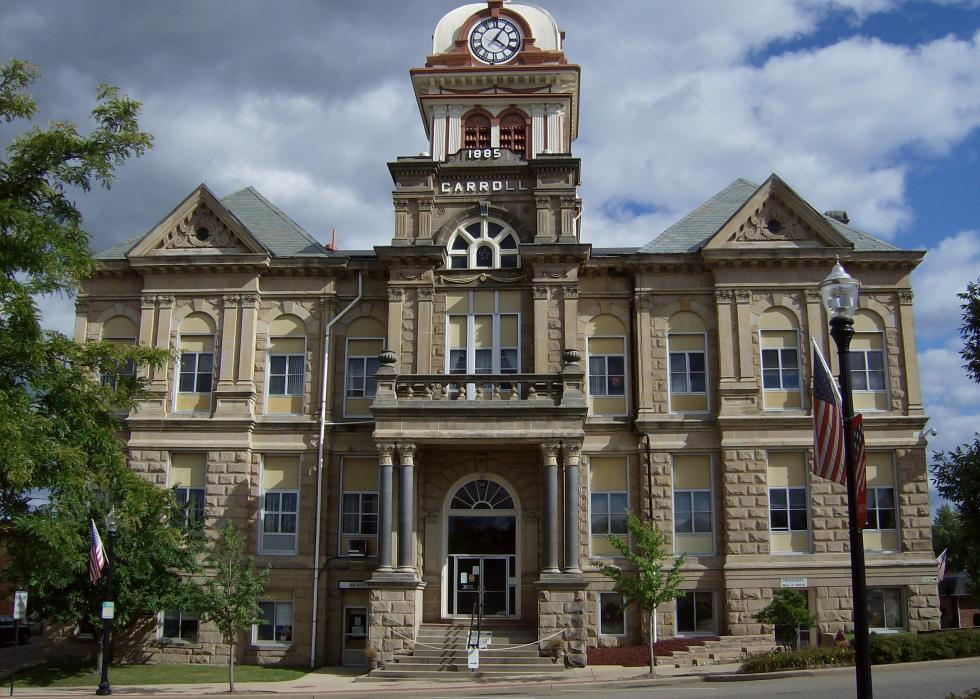 3 / 50 Nyttend // Wikimedia Commons
#48. Carroll County
– Cumulative deaths per 100k: 178 (48 total deaths)
— 2.3% more deaths per 100k residents than Ohio
— #1,712 highest rate among all counties nationwide
– New deaths per 100k in the past week: 0.0 (0 new deaths, 0% change from previous week)
– Cumulative cases per 100k: 7,360 (1,981 total cases)
— 22.7% less cases per 100k residents than Ohio
– New cases per 100k in the past week: 0 (0 new cases, -100% change from previous week)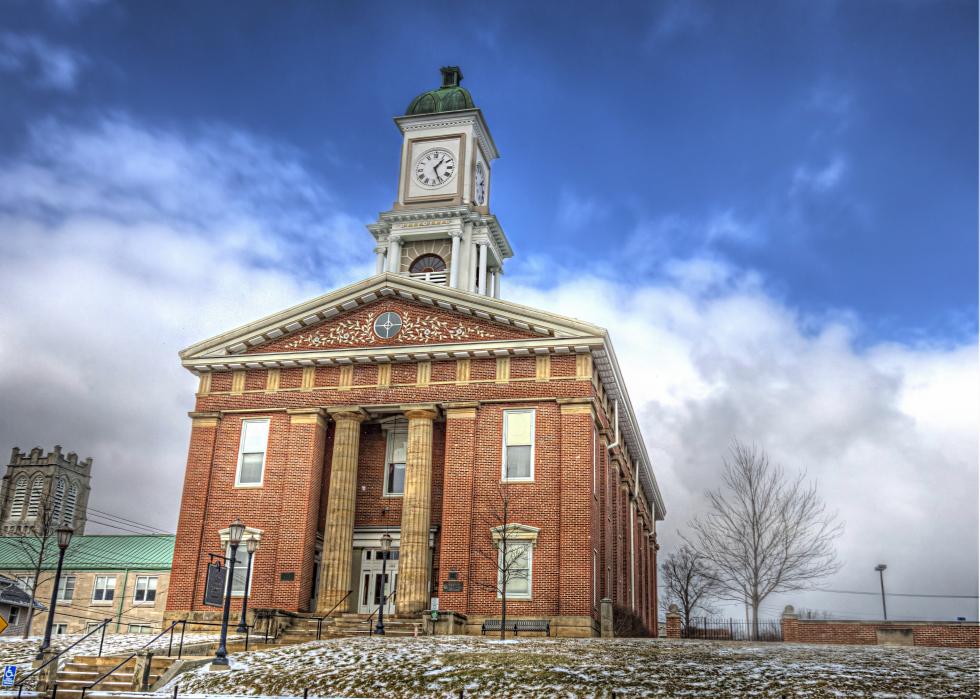 4 / 50 Mark Spearman from Newark, Ohio, USA // Wikimedia Commons
#47. Knox County
– Cumulative deaths per 100k: 180 (112 total deaths)
— 3.4% more deaths per 100k residents than Ohio
— #1,689 highest rate among all counties nationwide
– New deaths per 100k in the past week: 0.0 (0 new deaths, 0% change from previous week)
– Cumulative cases per 100k: 7,352 (4,582 total cases)
— 22.8% less cases per 100k residents than Ohio
– New cases per 100k in the past week: 8 (5 new cases, +25% change from previous week)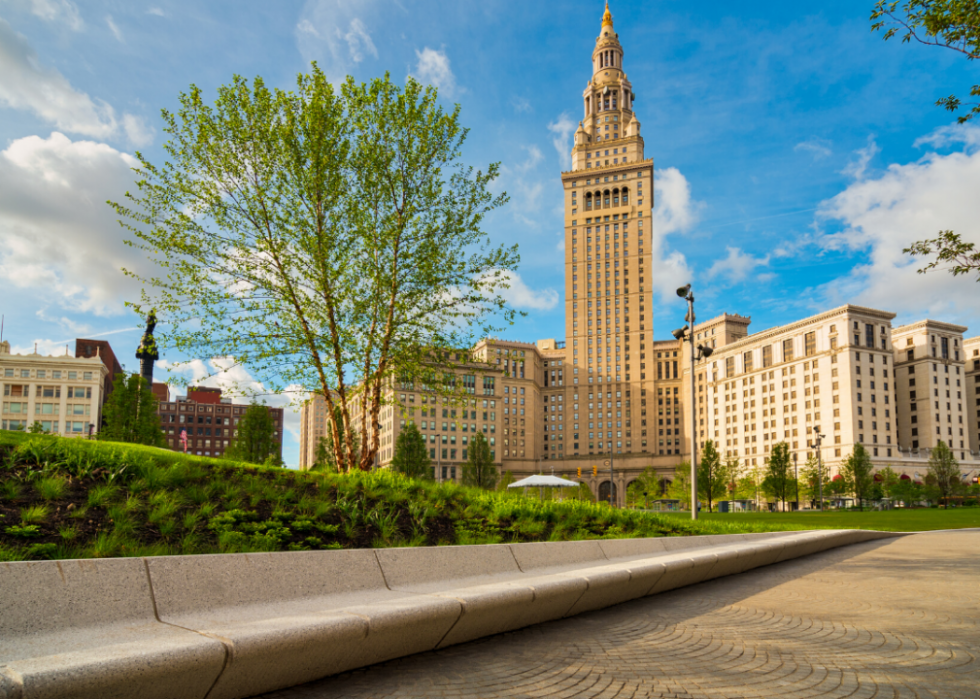 5 / 50 Canva
#46. Cuyahoga County
– Cumulative deaths per 100k: 181 (2,240 total deaths)
— 4.0% more deaths per 100k residents than Ohio
— #1,677 highest rate among all counties nationwide
– New deaths per 100k in the past week: 0.2 (2 new deaths, 0% change from previous week)
– Cumulative cases per 100k: 9,407 (116,189 total cases)
— 1.2% less cases per 100k residents than Ohio
– New cases per 100k in the past week: 9 (117 new cases, -39% change from previous week)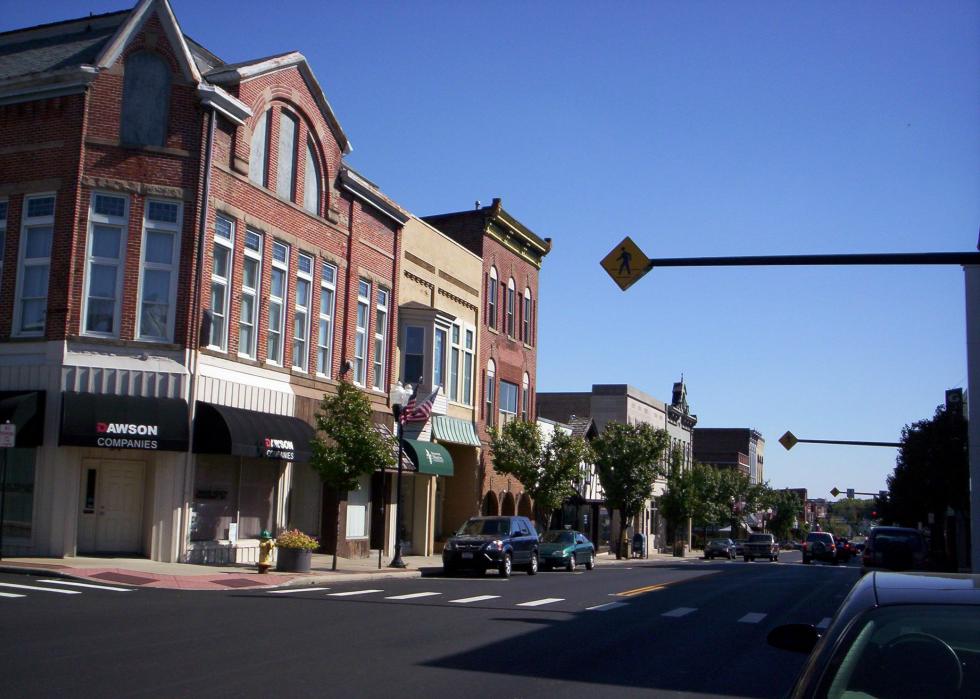 6 / 50 OHWiki // Wikimedia Commons
#45. Ashland County
– Cumulative deaths per 100k: 183 (98 total deaths)
— 5.2% more deaths per 100k residents than Ohio
— #1,645 highest rate among all counties nationwide
– New deaths per 100k in the past week: 0.0 (0 new deaths, 0% change from previous week)
– Cumulative cases per 100k: 8,171 (4,370 total cases)
— 14.2% less cases per 100k residents than Ohio
– New cases per 100k in the past week: 4 (2 new cases, -78% change from previous week)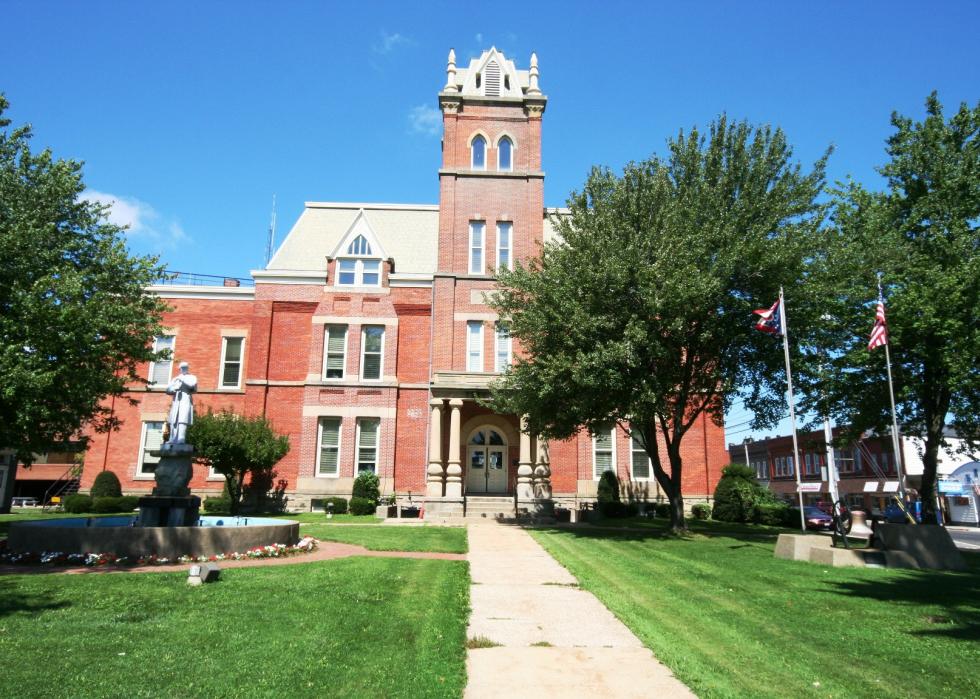 7 / 50 OZinOH // Wikimedia Commons
#44. Ashtabula County
– Cumulative deaths per 100k: 184 (179 total deaths)
— 5.7% more deaths per 100k residents than Ohio
— #1,641 highest rate among all counties nationwide
– New deaths per 100k in the past week: 0.0 (0 new deaths, 0% change from previous week)
– Cumulative cases per 100k: 7,425 (7,220 total cases)
— 22.0% less cases per 100k residents than Ohio
– New cases per 100k in the past week: 17 (17 new cases, -47% change from previous week)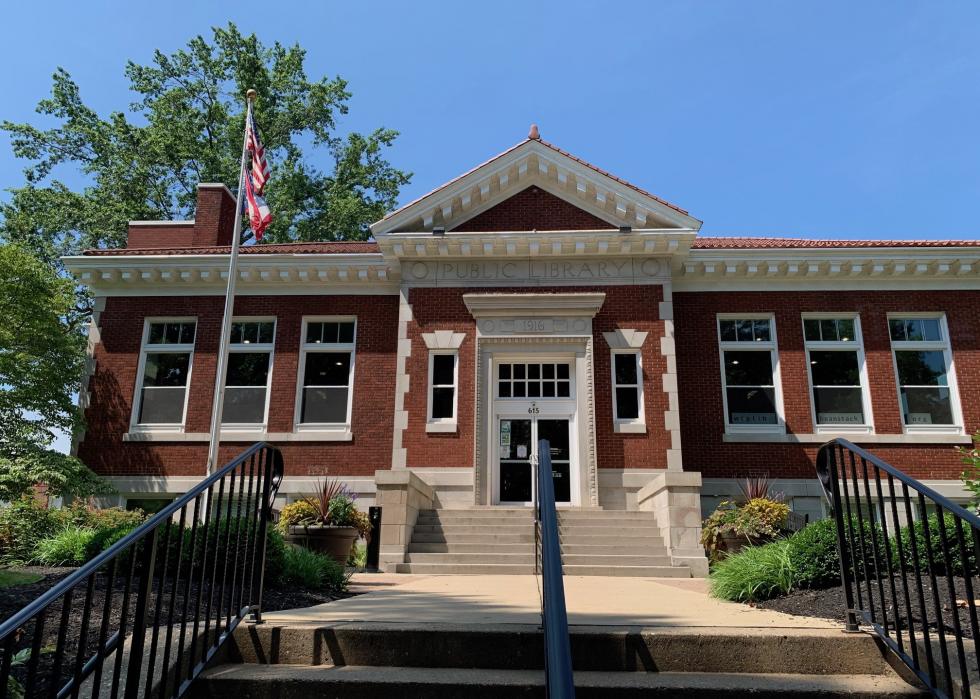 8 / 50 Roger O. Young // Wikimedia Commons
#43. Washington County
– Cumulative deaths per 100k: 184 (110 total deaths)
— 5.7% more deaths per 100k residents than Ohio
— #1,636 highest rate among all counties nationwide
– New deaths per 100k in the past week: 0.0 (0 new deaths, 0% change from previous week)
– Cumulative cases per 100k: 8,898 (5,331 total cases)
— 6.6% less cases per 100k residents than Ohio
– New cases per 100k in the past week: 7 (4 new cases, 0% change from previous week)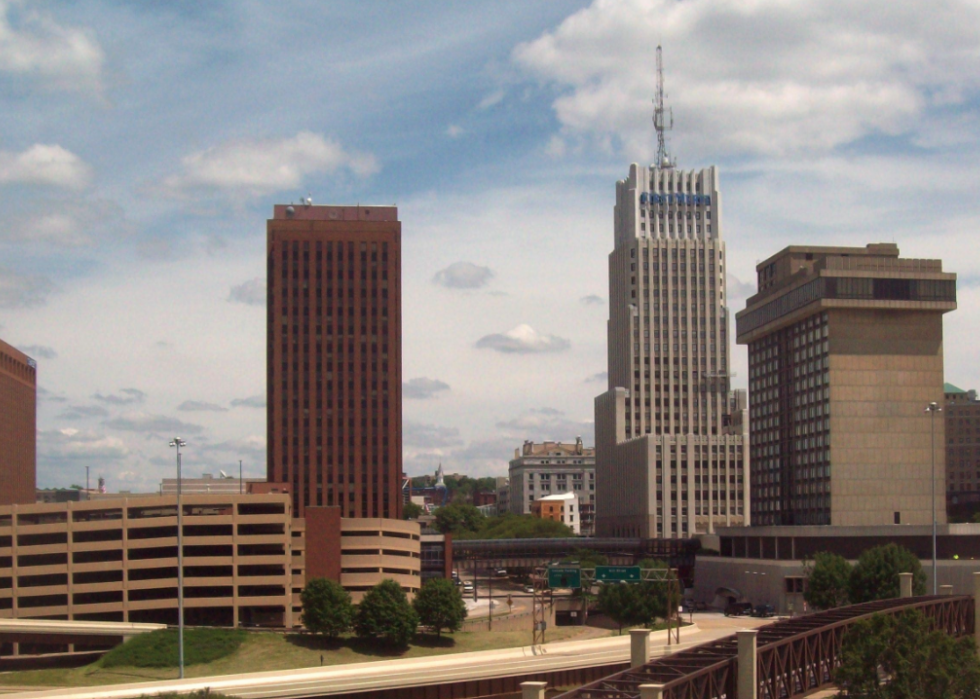 9 / 50 Sleepydre // Wikicommons
#42. Summit County
– Cumulative deaths per 100k: 187 (1,011 total deaths)
— 7.5% more deaths per 100k residents than Ohio
— #1,599 highest rate among all counties nationwide
– New deaths per 100k in the past week: 0.2 (1 new deaths, 0% change from previous week)
– Cumulative cases per 100k: 8,976 (48,559 total cases)
— 5.7% less cases per 100k residents than Ohio
– New cases per 100k in the past week: 9 (49 new cases, -11% change from previous week)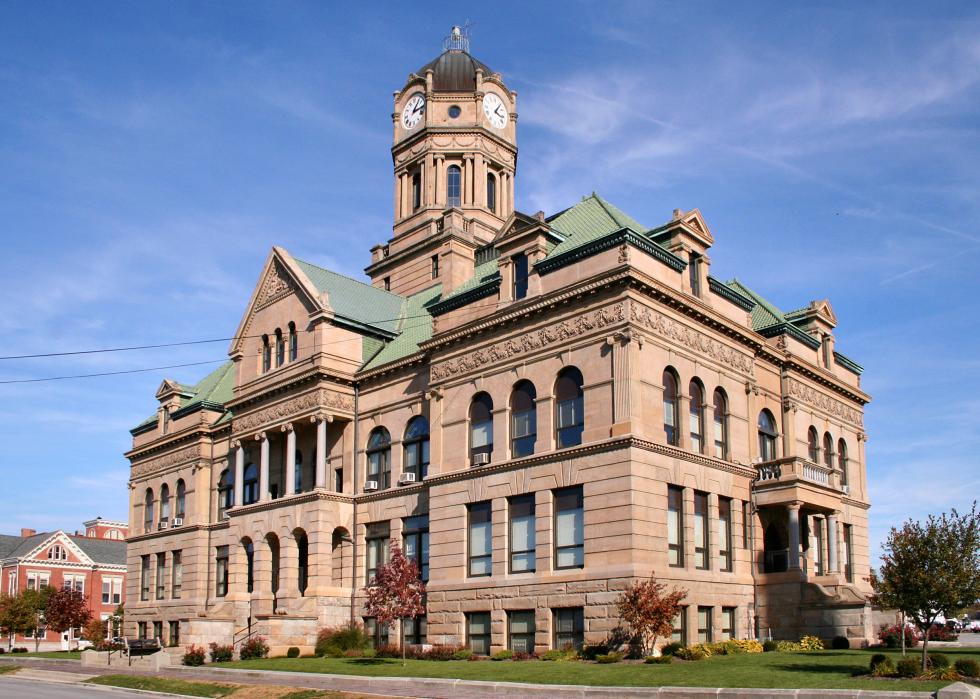 10 /50 Jensen // Wikimedia Commons
#41. Auglaize County
– Cumulative deaths per 100k: 191 (87 total deaths)
— 9.8% more deaths per 100k residents than Ohio
— #1,560 highest rate among all counties nationwide
– New deaths per 100k in the past week: 0.0 (0 new deaths, 0% change from previous week)
– Cumulative cases per 100k: 11,050 (5,045 total cases)
— 16.0% more cases per 100k residents than Ohio
– New cases per 100k in the past week: 28 (13 new cases, +62% change from previous week)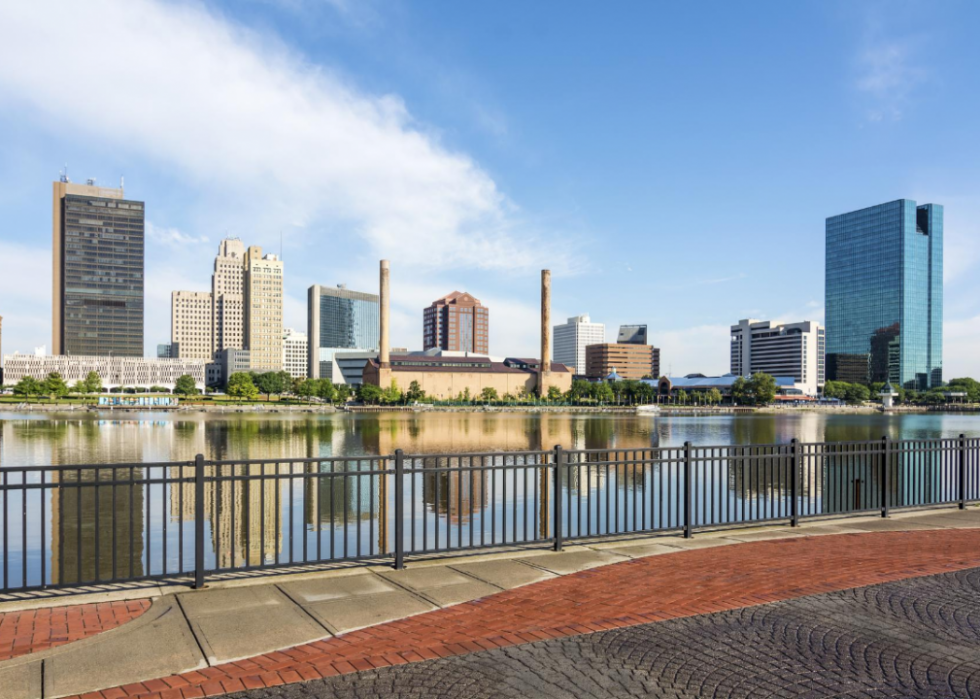 11 / 50 Michael Shake // Shutterstock
#40. Lucas County
– Cumulative deaths per 100k: 194 (829 total deaths)
— 11.5% more deaths per 100k residents than Ohio
— #1,525 highest rate among all counties nationwide
– New deaths per 100k in the past week: 0.0 (0 new deaths, 0% change from previous week)
– Cumulative cases per 100k: 10,148 (43,467 total cases)
— 6.6% more cases per 100k residents than Ohio
– New cases per 100k in the past week: 5 (21 new cases, -66% change from previous week)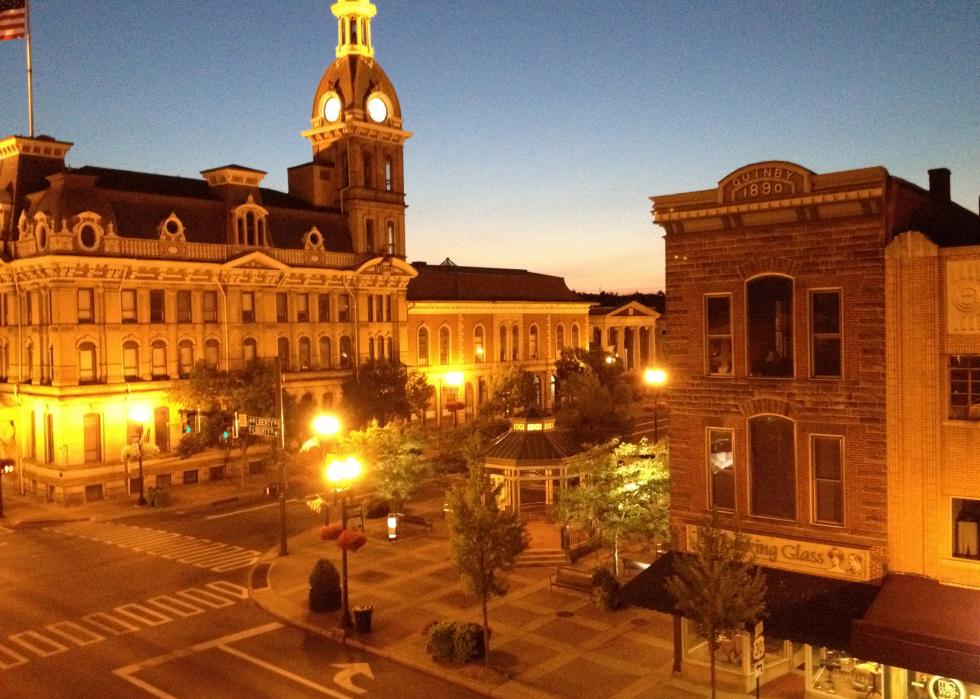 12 / 50 Lugevas // Wikimedia Commons
#39. Wayne County
– Cumulative deaths per 100k: 195 (226 total deaths)
— 12.1% more deaths per 100k residents than Ohio
— #1,515 highest rate among all counties nationwide
– New deaths per 100k in the past week: 0.0 (0 new deaths, 0% change from previous week)
– Cumulative cases per 100k: 7,938 (9,185 total cases)
— 16.6% less cases per 100k residents than Ohio
– New cases per 100k in the past week: 10 (12 new cases, -40% change from previous week)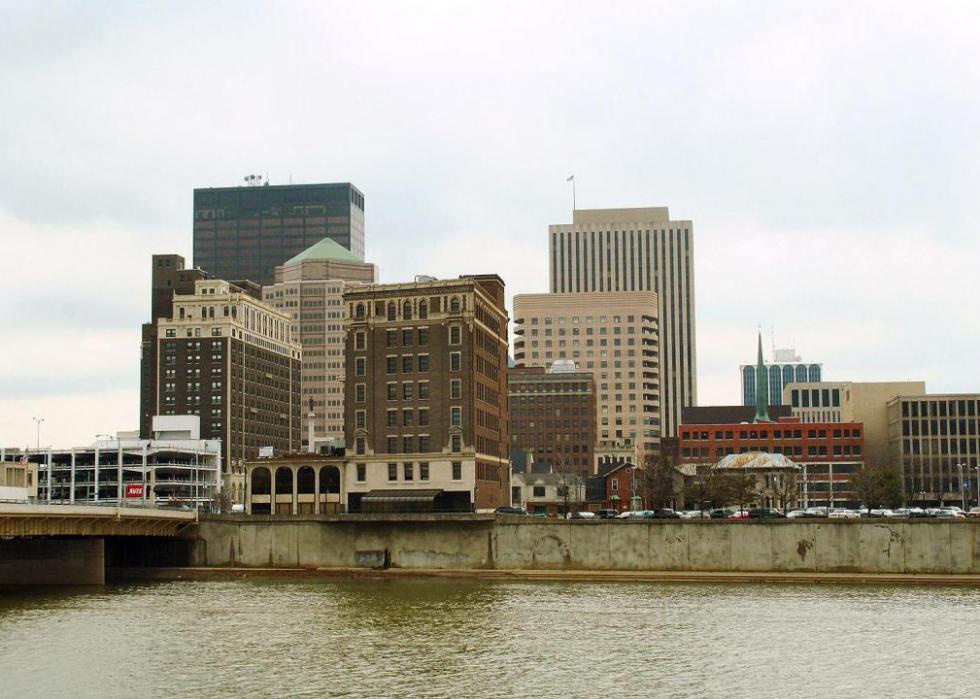 13 / 50 Tysto // Wikimedia Commons
#38. Montgomery County
– Cumulative deaths per 100k: 199 (1,056 total deaths)
— 14.4% more deaths per 100k residents than Ohio
— #1,455 highest rate among all counties nationwide
– New deaths per 100k in the past week: 0.0 (0 new deaths, 0% change from previous week)
– Cumulative cases per 100k: 9,914 (52,713 total cases)
— 4.1% more cases per 100k residents than Ohio
– New cases per 100k in the past week: 12 (64 new cases, +2% change from previous week)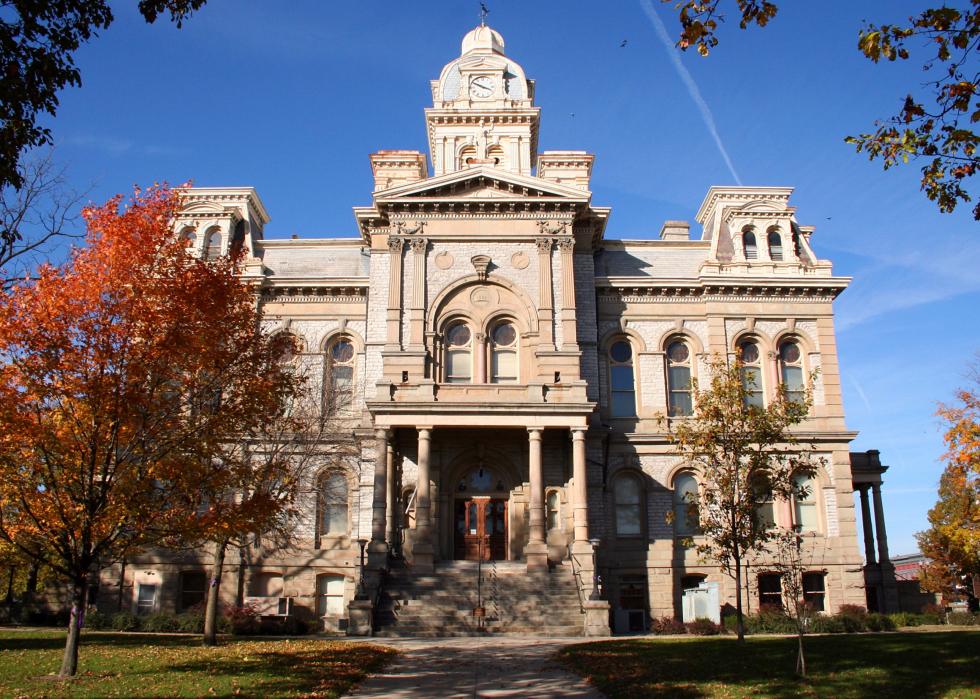 14 / 50 Derek Jensen // Wikimedia Commons
#37. Shelby County
– Cumulative deaths per 100k: 200 (97 total deaths)
— 14.9% more deaths per 100k residents than Ohio
— #1,446 highest rate among all counties nationwide
– New deaths per 100k in the past week: 2.1 (1 new deaths, 0% change from previous week)
– Cumulative cases per 100k: 9,850 (4,786 total cases)
— 3.4% more cases per 100k residents than Ohio
– New cases per 100k in the past week: 16 (8 new cases, 0% change from previous week)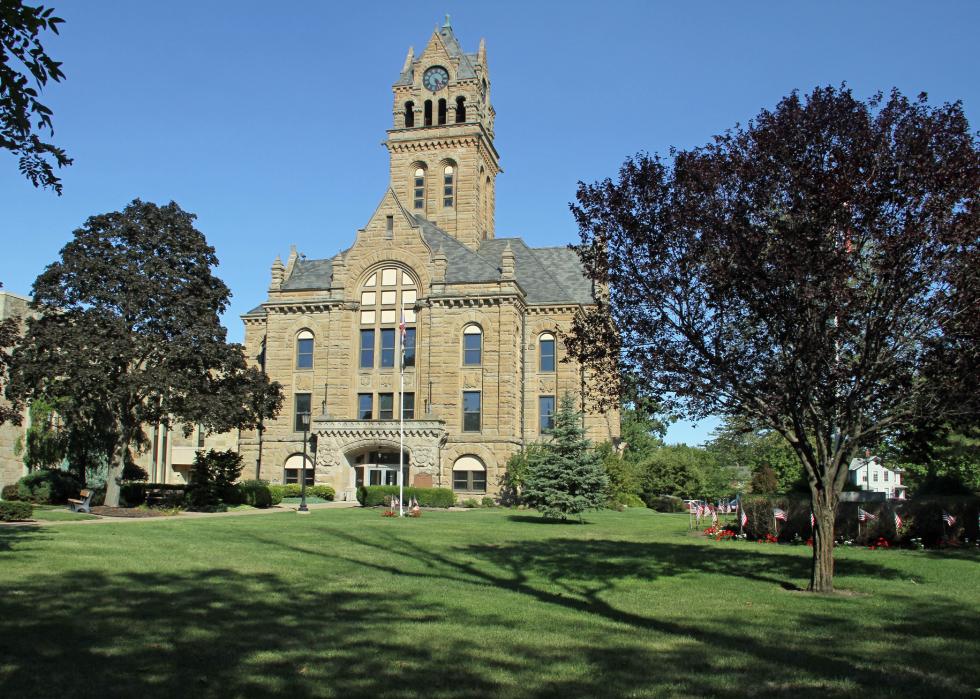 15 / 50 LeeG7144 // Wikimedia Commons
#36. Ottawa County
– Cumulative deaths per 100k: 200 (81 total deaths)
— 14.9% more deaths per 100k residents than Ohio
— #1,440 highest rate among all counties nationwide
– New deaths per 100k in the past week: 0.0 (0 new deaths, 0% change from previous week)
– Cumulative cases per 100k: 9,226 (3,739 total cases)
— 3.1% less cases per 100k residents than Ohio
– New cases per 100k in the past week: 0 (0 new cases, -100% change from previous week)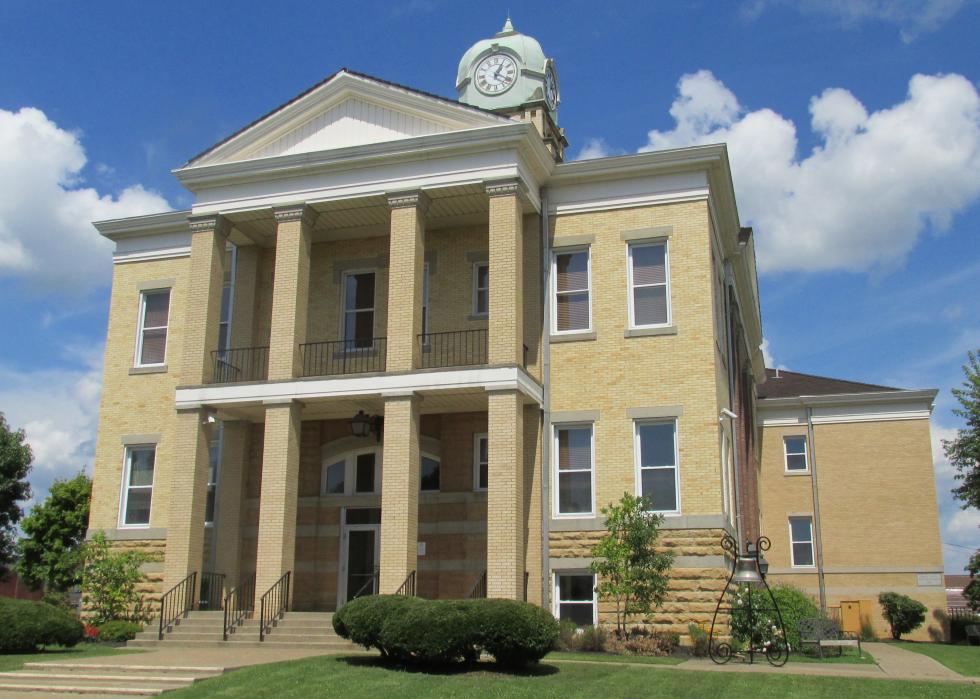 16 / 50 Aesopposea // Wikimedia Commons
#35. Adams County
– Cumulative deaths per 100k: 202 (56 total deaths)
— 16.1% more deaths per 100k residents than Ohio
— #1,423 highest rate among all counties nationwide
– New deaths per 100k in the past week: 0.0 (0 new deaths, 0% change from previous week)
– Cumulative cases per 100k: 8,813 (2,441 total cases)
— 7.4% less cases per 100k residents than Ohio
– New cases per 100k in the past week: 18 (5 new cases, +25% change from previous week)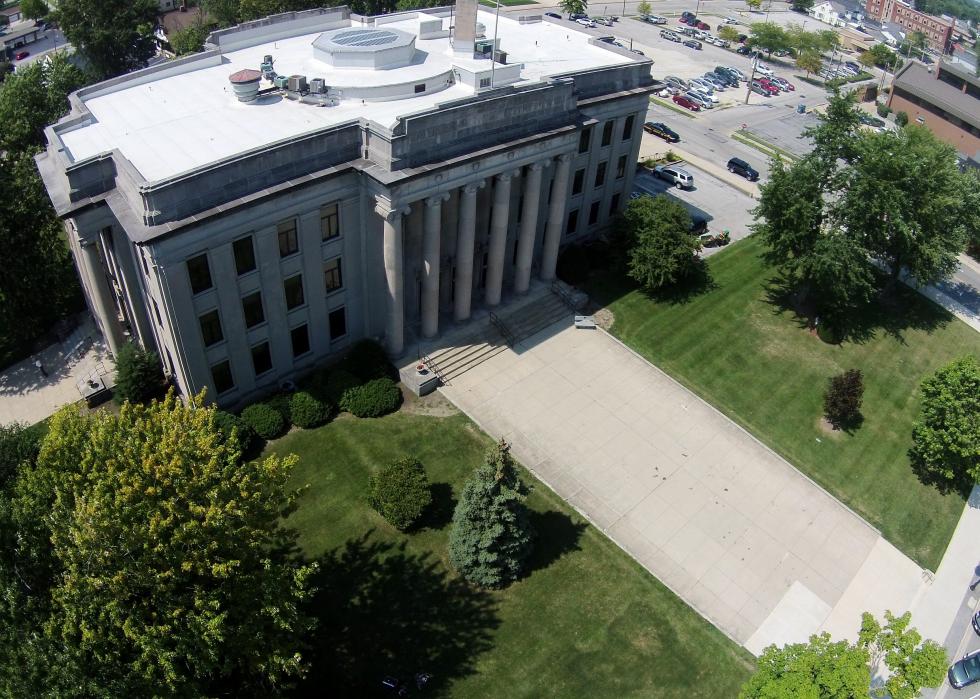 17 / 50 Eric Lochtefeld // Wikimedia Commons
#34. Mercer County
– Cumulative deaths per 100k: 206 (85 total deaths)
— 18.4% more deaths per 100k residents than Ohio
— #1,373 highest rate among all counties nationwide
– New deaths per 100k in the past week: 0.0 (0 new deaths, 0% change from previous week)
– Cumulative cases per 100k: 11,860 (4,883 total cases)
— 24.6% more cases per 100k residents than Ohio
– New cases per 100k in the past week: 7 (3 new cases, 0% change from previous week)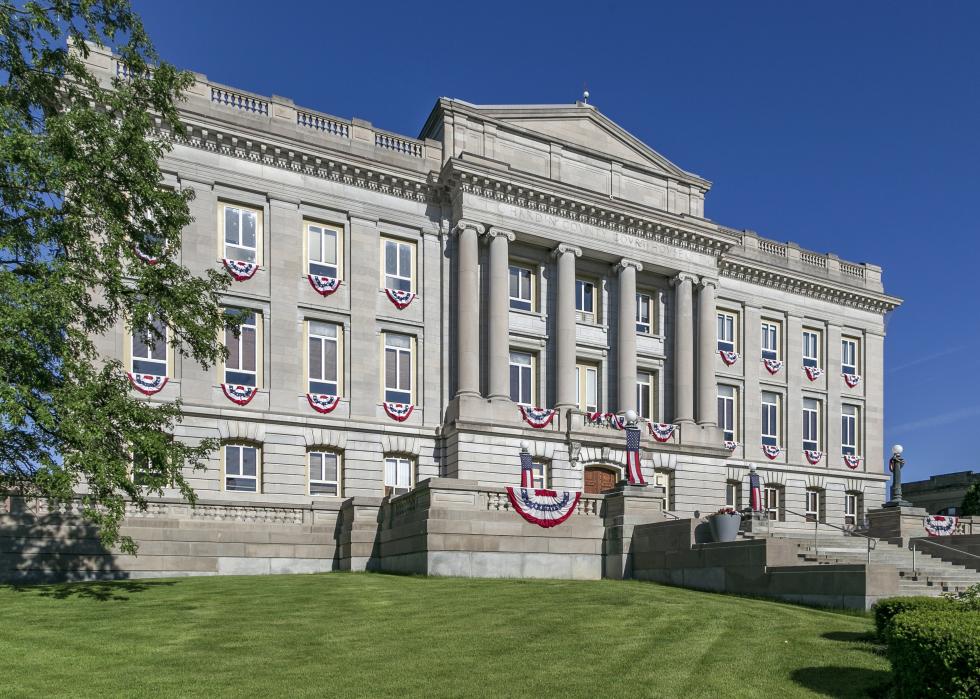 18 / 50 Christopher L. Riley // Wikimedia Commons
#33. Hardin County
– Cumulative deaths per 100k: 207 (65 total deaths)
— 19.0% more deaths per 100k residents than Ohio
— #1,360 highest rate among all counties nationwide
– New deaths per 100k in the past week: 0.0 (0 new deaths, 0% change from previous week)
– Cumulative cases per 100k: 8,841 (2,773 total cases)
— 7.2% less cases per 100k residents than Ohio
– New cases per 100k in the past week: 16 (5 new cases, -55% change from previous week)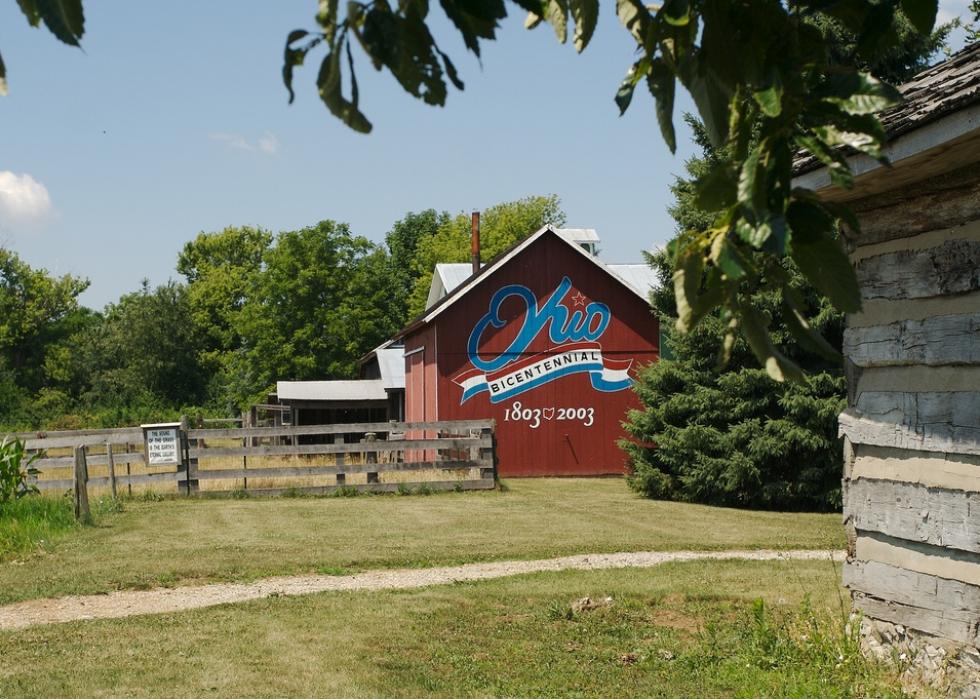 19 / 50 Kevin Marsh // Wikimedia Commons
#32. Huron County
– Cumulative deaths per 100k: 209 (122 total deaths)
— 20.1% more deaths per 100k residents than Ohio
— #1,341 highest rate among all counties nationwide
– New deaths per 100k in the past week: 0.0 (0 new deaths, 0% change from previous week)
– Cumulative cases per 100k: 9,572 (5,577 total cases)
— 0.5% more cases per 100k residents than Ohio
– New cases per 100k in the past week: 14 (8 new cases, -47% change from previous week)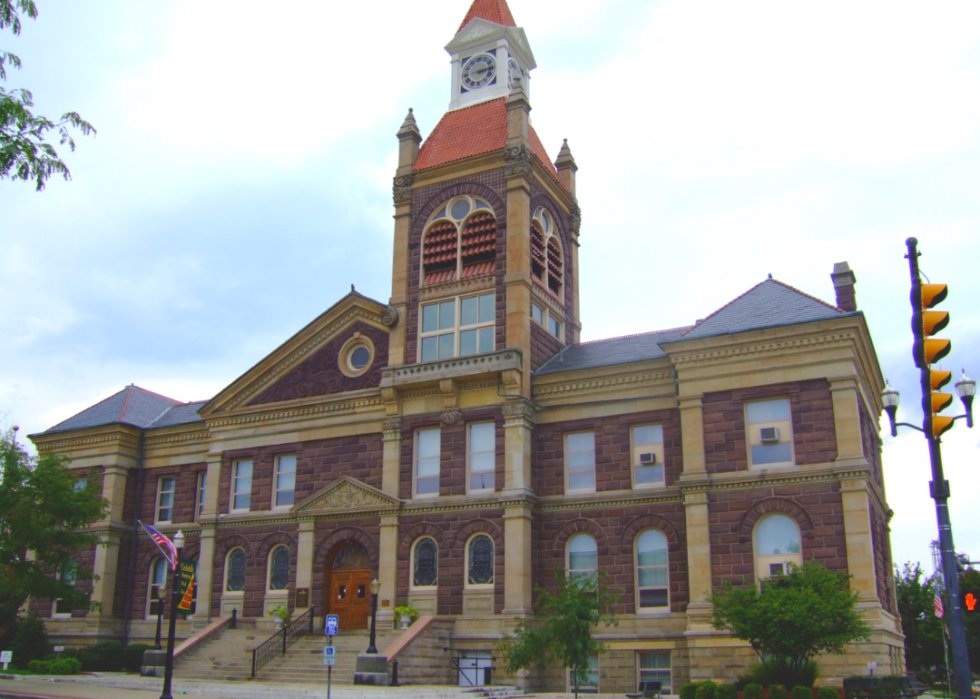 20 / 50 Analogue Kid // Wikimedia Commons
#31. Pickaway County
– Cumulative deaths per 100k: 209 (122 total deaths)
— 20.1% more deaths per 100k residents than Ohio
— #1,337 highest rate among all counties nationwide
– New deaths per 100k in the past week: 0.0 (0 new deaths, 0% change from previous week)
– Cumulative cases per 100k: 14,857 (8,685 total cases)
— 56.0% more cases per 100k residents than Ohio
– New cases per 100k in the past week: 9 (5 new cases, -69% change from previous week)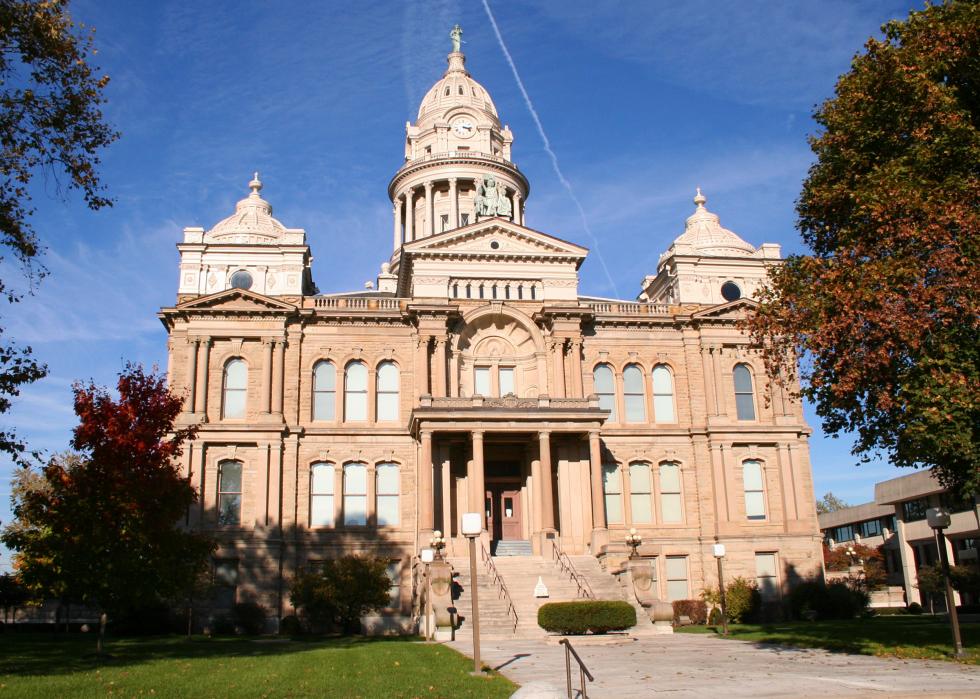 21 / 50 Derek Jensen // Wikimedia Commons
#30. Miami County
– Cumulative deaths per 100k: 211 (226 total deaths)
— 21.3% more deaths per 100k residents than Ohio
— #1,314 highest rate among all counties nationwide
– New deaths per 100k in the past week: 0.0 (0 new deaths, 0% change from previous week)
– Cumulative cases per 100k: 10,171 (10,882 total cases)
— 6.8% more cases per 100k residents than Ohio
– New cases per 100k in the past week: 11 (12 new cases, -8% change from previous week)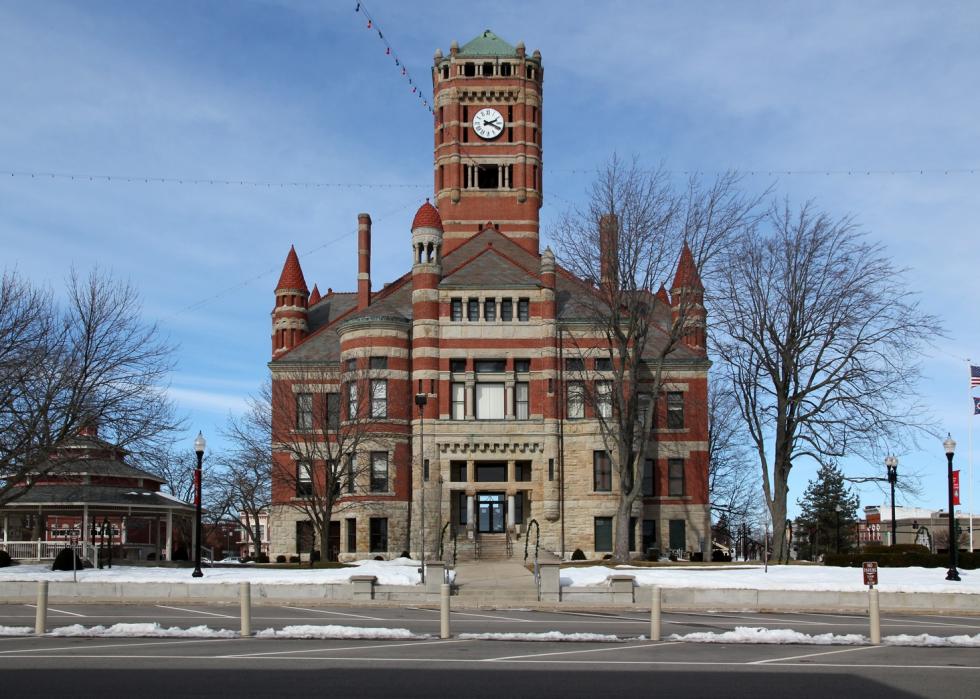 22 / 50 Christopher L. Riley // Wikimedia Commons
#29. Williams County
– Cumulative deaths per 100k: 213 (78 total deaths)
— 22.4% more deaths per 100k residents than Ohio
— #1,291 highest rate among all counties nationwide
– New deaths per 100k in the past week: 0.0 (0 new deaths, 0% change from previous week)
– Cumulative cases per 100k: 9,577 (3,514 total cases)
— 0.6% more cases per 100k residents than Ohio
– New cases per 100k in the past week: 49 (18 new cases, +64% change from previous week)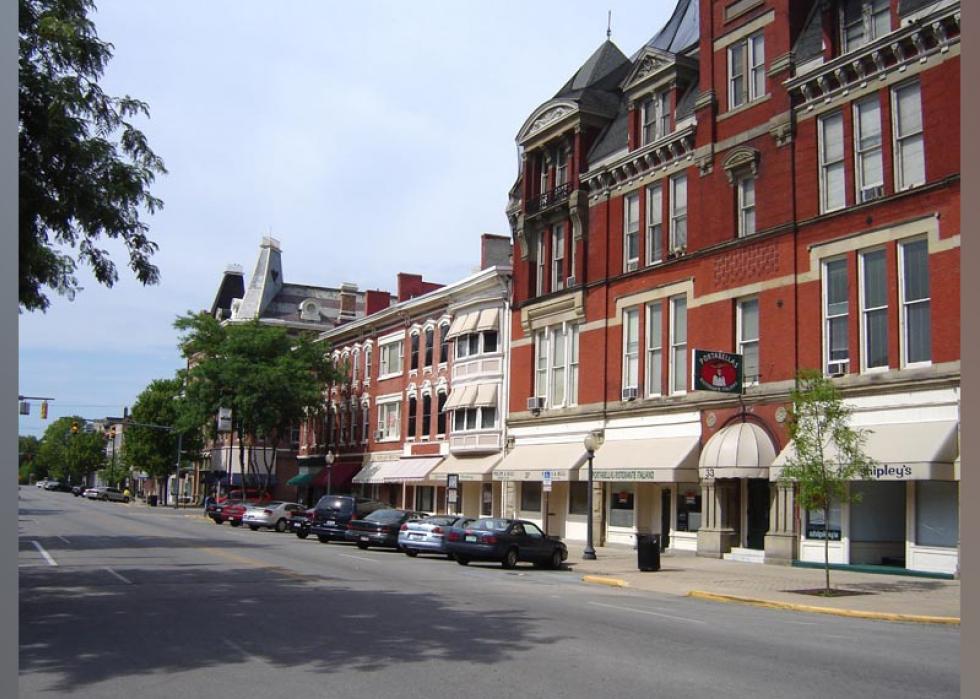 23 / 50 Mike Sharp // Wikimedia Commons
#28. Ross County
– Cumulative deaths per 100k: 214 (164 total deaths)
— 23.0% more deaths per 100k residents than Ohio
— #1,275 highest rate among all counties nationwide
– New deaths per 100k in the past week: 0.0 (0 new deaths, 0% change from previous week)
– Cumulative cases per 100k: 9,086 (6,966 total cases)
— 4.6% less cases per 100k residents than Ohio
– New cases per 100k in the past week: 12 (9 new cases, 0% change from previous week)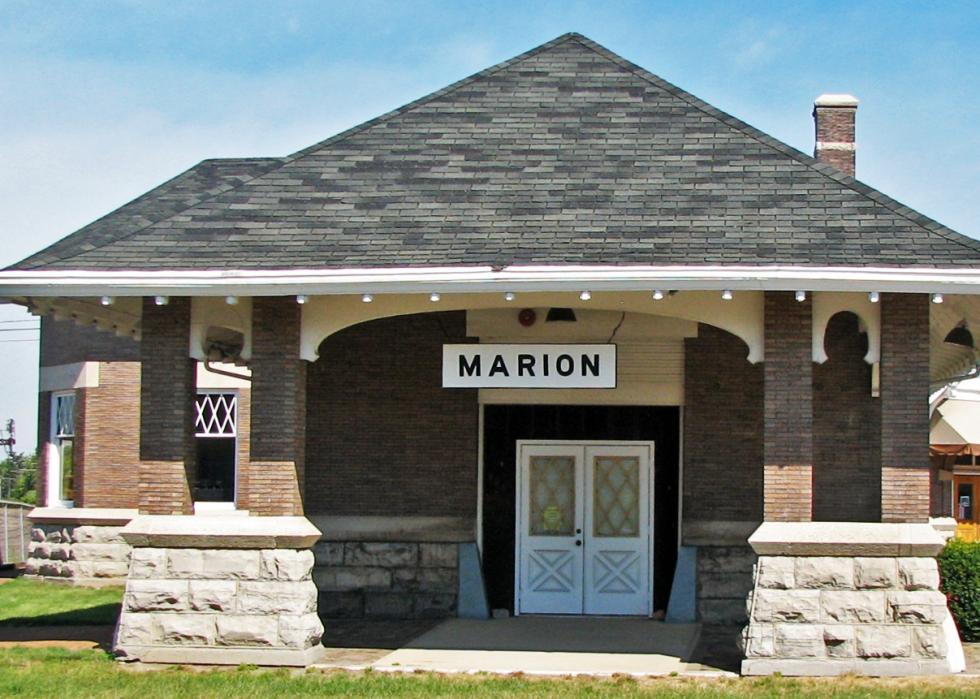 24 / 50 James St. John // Wikimedia Commons
#27. Marion County
– Cumulative deaths per 100k: 215 (140 total deaths)
— 23.6% more deaths per 100k residents than Ohio
— #1,265 highest rate among all counties nationwide
– New deaths per 100k in the past week: 0.0 (0 new deaths, 0% change from previous week)
– Cumulative cases per 100k: 13,299 (8,657 total cases)
— 39.7% more cases per 100k residents than Ohio
– New cases per 100k in the past week: 5 (3 new cases, -40% change from previous week)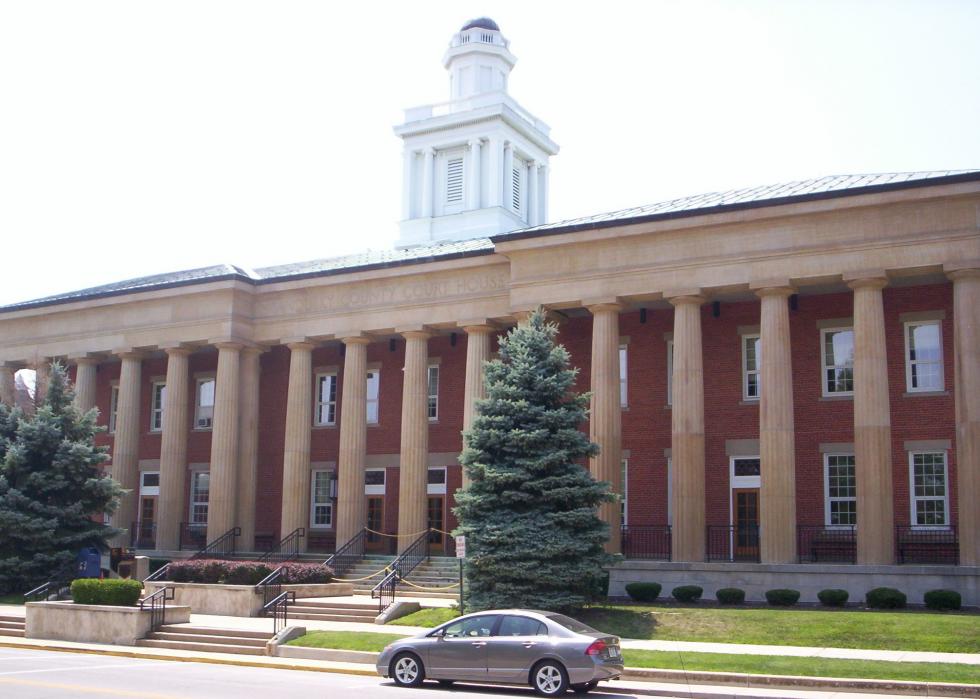 25 / 50 User:OHWiki // Wikimedia Commons
#26. Sandusky County
– Cumulative deaths per 100k: 220 (129 total deaths)
— 26.4% more deaths per 100k residents than Ohio
— #1,213 highest rate among all counties nationwide
– New deaths per 100k in the past week: 0.0 (0 new deaths, 0% change from previous week)
– Cumulative cases per 100k: 9,320 (5,454 total cases)
— 2.1% less cases per 100k residents than Ohio
– New cases per 100k in the past week: 12 (7 new cases, +133% change from previous week)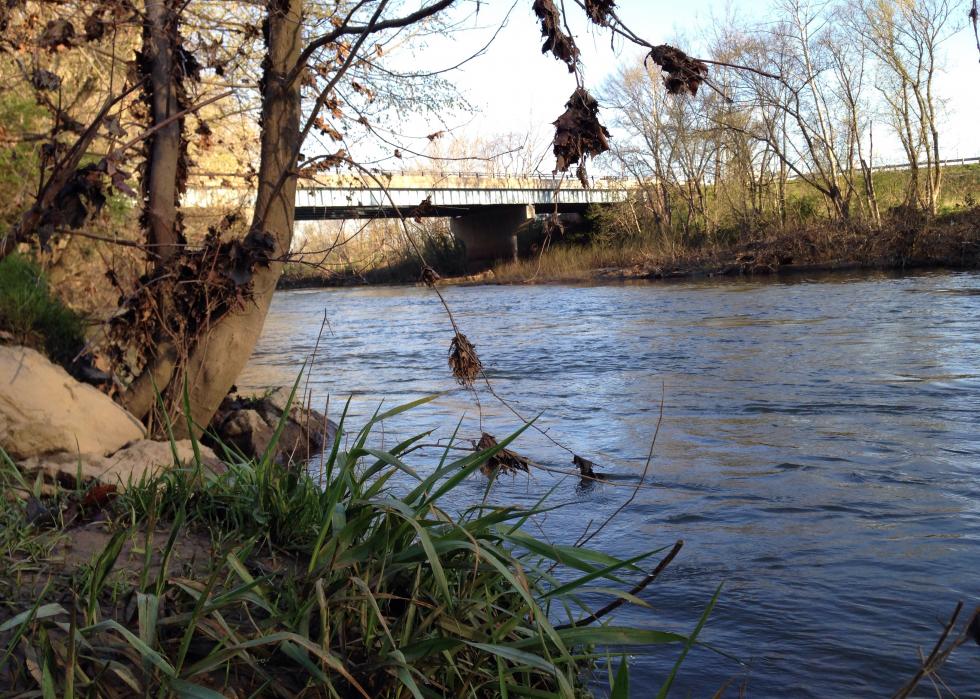 26 / 50 dankeck // Wikimedia Commons
#25. Hocking County
– Cumulative deaths per 100k: 223 (63 total deaths)
— 28.2% more deaths per 100k residents than Ohio
— #1,176 highest rate among all counties nationwide
– New deaths per 100k in the past week: 0.0 (0 new deaths, 0% change from previous week)
– Cumulative cases per 100k: 7,809 (2,207 total cases)
— 18.0% less cases per 100k residents than Ohio
– New cases per 100k in the past week: 4 (1 new cases, 0% change from previous week)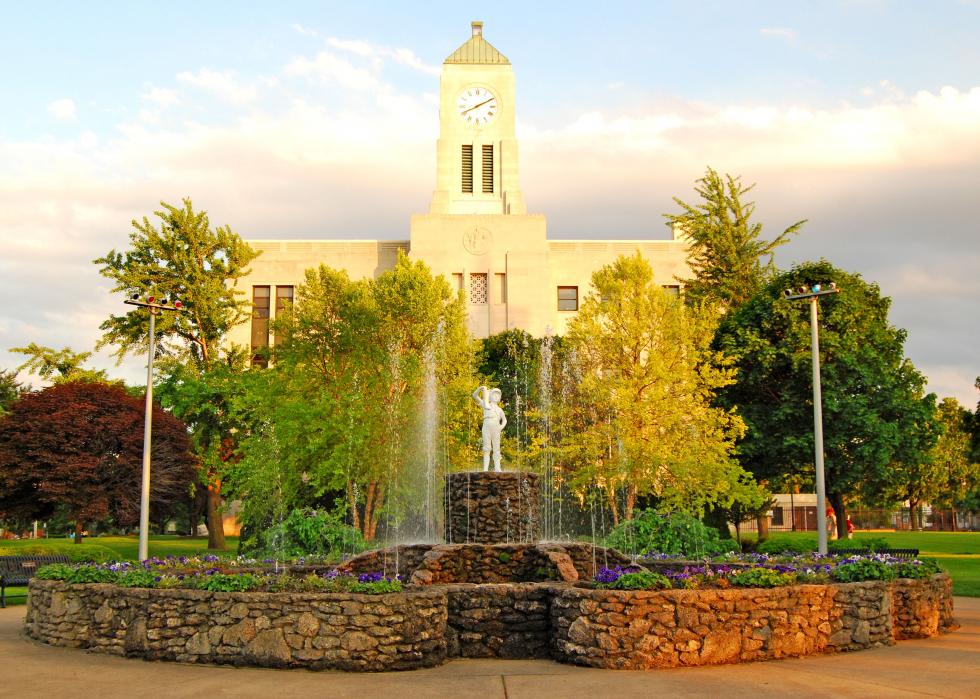 27 / 50 Rona Proudfoot // Wikimedia Commons
#24. Erie County
– Cumulative deaths per 100k: 224 (166 total deaths)
— 28.7% more deaths per 100k residents than Ohio
— #1,170 highest rate among all counties nationwide
– New deaths per 100k in the past week: 0.0 (0 new deaths, 0% change from previous week)
– Cumulative cases per 100k: 10,866 (8,070 total cases)
— 14.1% more cases per 100k residents than Ohio
– New cases per 100k in the past week: 13 (10 new cases, +400% change from previous week)
28 / 50 Myself // Wikimedia Commons
#23. Paulding County
– Cumulative deaths per 100k: 225 (42 total deaths)
— 29.3% more deaths per 100k residents than Ohio
— #1,160 highest rate among all counties nationwide
– New deaths per 100k in the past week: 0.0 (0 new deaths, 0% change from previous week)
– Cumulative cases per 100k: 9,512 (1,776 total cases)
— 0.1% less cases per 100k residents than Ohio
– New cases per 100k in the past week: 37 (7 new cases, +133% change from previous week)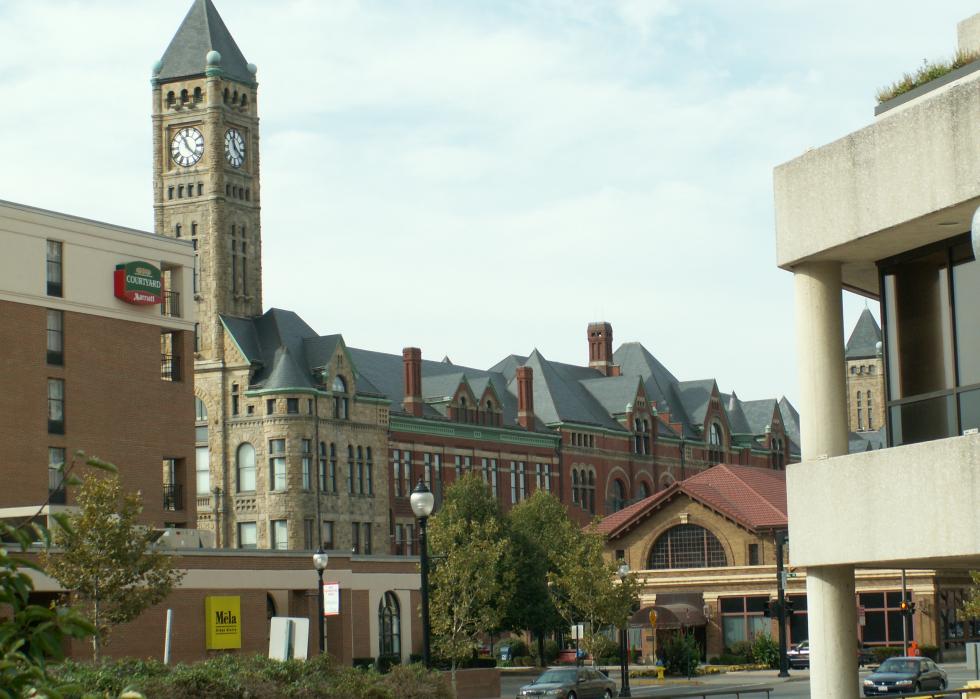 29 / 50 Cindy Funk // Wikicommons
#22. Clark County
– Cumulative deaths per 100k: 228 (306 total deaths)
— 31.0% more deaths per 100k residents than Ohio
— #1,129 highest rate among all counties nationwide
– New deaths per 100k in the past week: 0.0 (0 new deaths, 0% change from previous week)
– Cumulative cases per 100k: 10,642 (14,269 total cases)
— 11.8% more cases per 100k residents than Ohio
– New cases per 100k in the past week: 7 (9 new cases, -44% change from previous week)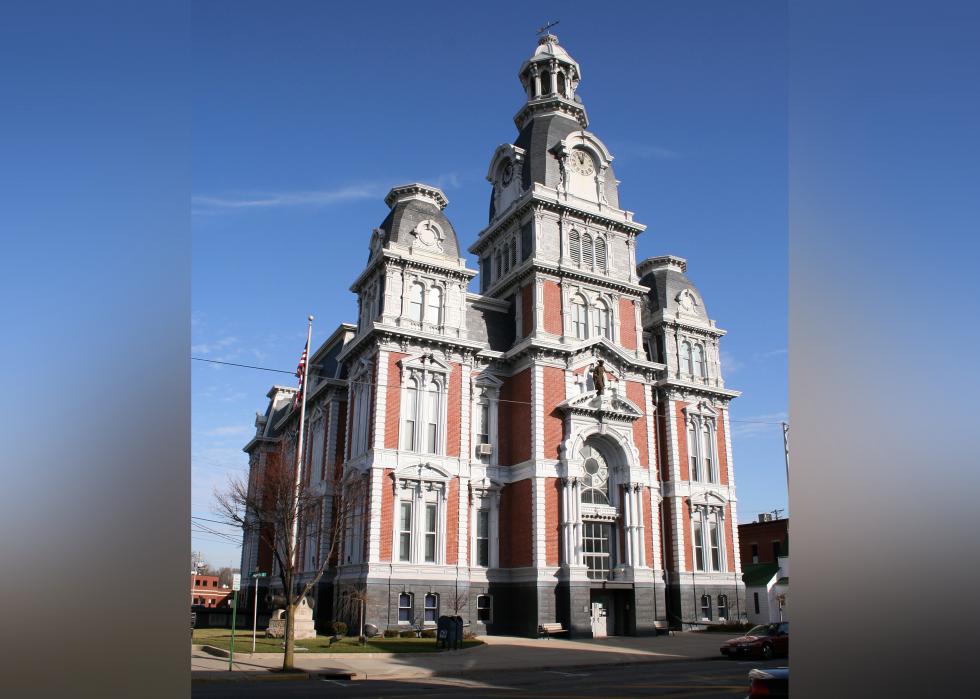 30 / 50 Derek Jensen (Tysto) // Wikimedia Commons
#21. Van Wert County
– Cumulative deaths per 100k: 230 (65 total deaths)
— 32.2% more deaths per 100k residents than Ohio
— #1,098 highest rate among all counties nationwide
– New deaths per 100k in the past week: 0.0 (0 new deaths, 0% change from previous week)
– Cumulative cases per 100k: 8,778 (2,482 total cases)
— 7.8% less cases per 100k residents than Ohio
– New cases per 100k in the past week: 18 (5 new cases, 0% change from previous week)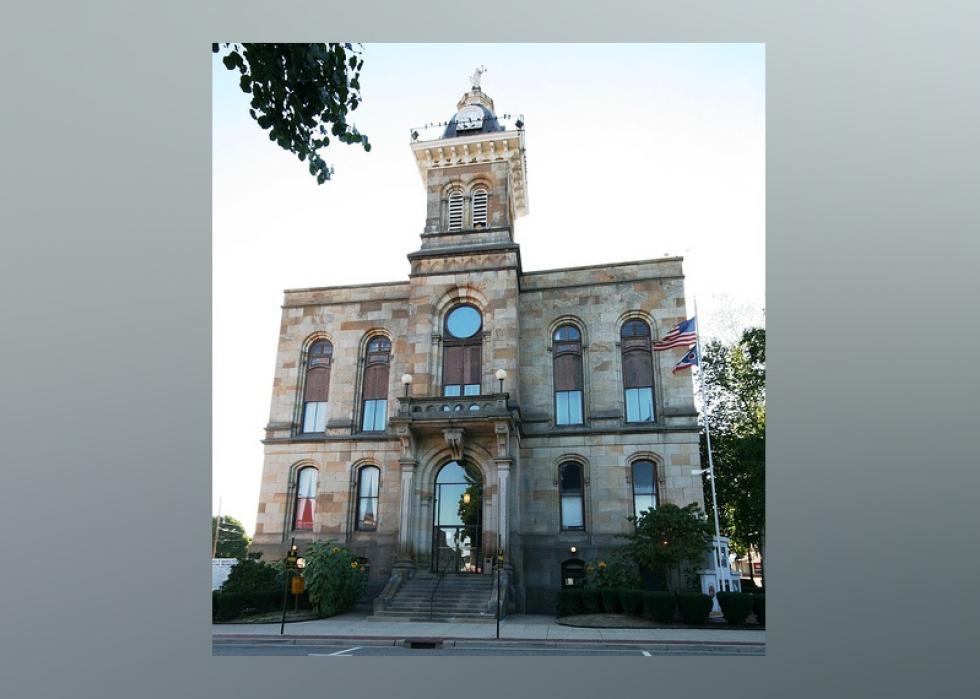 31 / 50 636Buster // Wikimedia Commons
#20. Columbiana County
– Cumulative deaths per 100k: 232 (236 total deaths)
— 33.3% more deaths per 100k residents than Ohio
— #1,068 highest rate among all counties nationwide
– New deaths per 100k in the past week: 0.0 (0 new deaths, 0% change from previous week)
– Cumulative cases per 100k: 8,890 (9,057 total cases)
— 6.6% less cases per 100k residents than Ohio
– New cases per 100k in the past week: 5 (5 new cases, -62% change from previous week)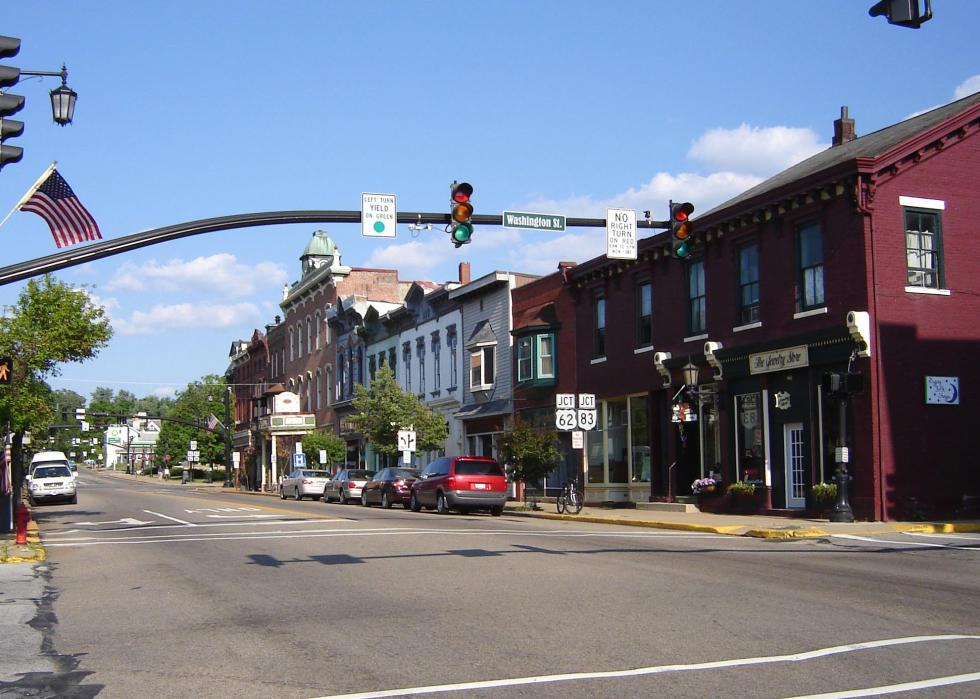 32 / 50 Mike Sharp // Wikimedia Commons
#19. Holmes County
– Cumulative deaths per 100k: 232 (102 total deaths)
— 33.3% more deaths per 100k residents than Ohio
— #1,067 highest rate among all counties nationwide
– New deaths per 100k in the past week: 0.0 (0 new deaths, 0% change from previous week)
– Cumulative cases per 100k: 6,178 (2,716 total cases)
— 35.1% less cases per 100k residents than Ohio
– New cases per 100k in the past week: 9 (4 new cases, -56% change from previous week)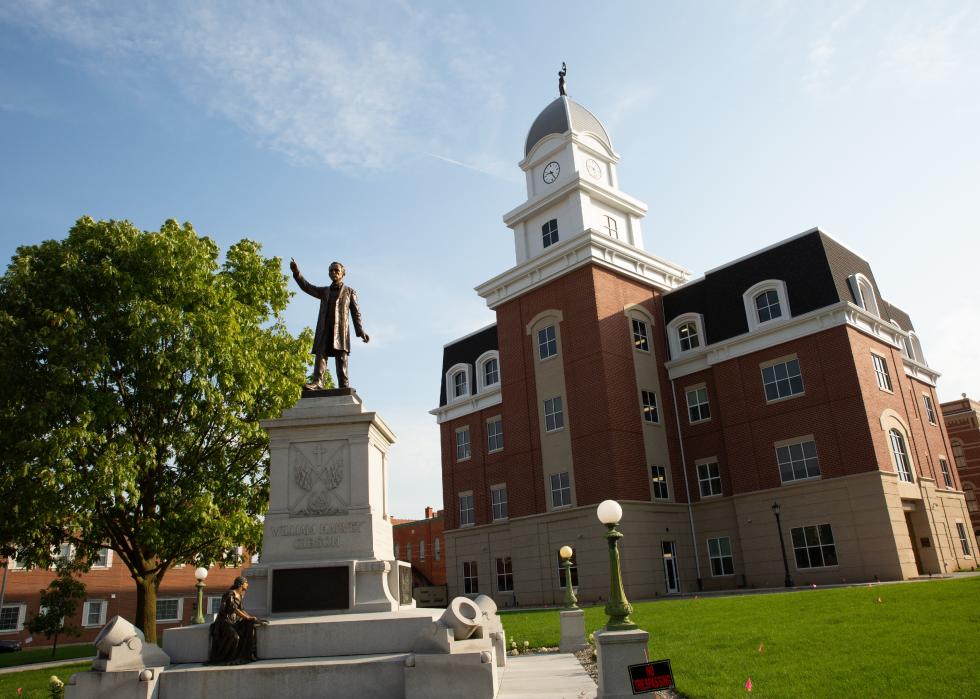 33 / 50 Ndutro // Wikimedia Commons
#18. Seneca County
– Cumulative deaths per 100k: 232 (128 total deaths)
— 33.3% more deaths per 100k residents than Ohio
— #1,064 highest rate among all counties nationwide
– New deaths per 100k in the past week: 0.0 (0 new deaths, 0% change from previous week)
– Cumulative cases per 100k: 9,703 (5,354 total cases)
— 1.9% more cases per 100k residents than Ohio
– New cases per 100k in the past week: 4 (2 new cases, 0% change from previous week)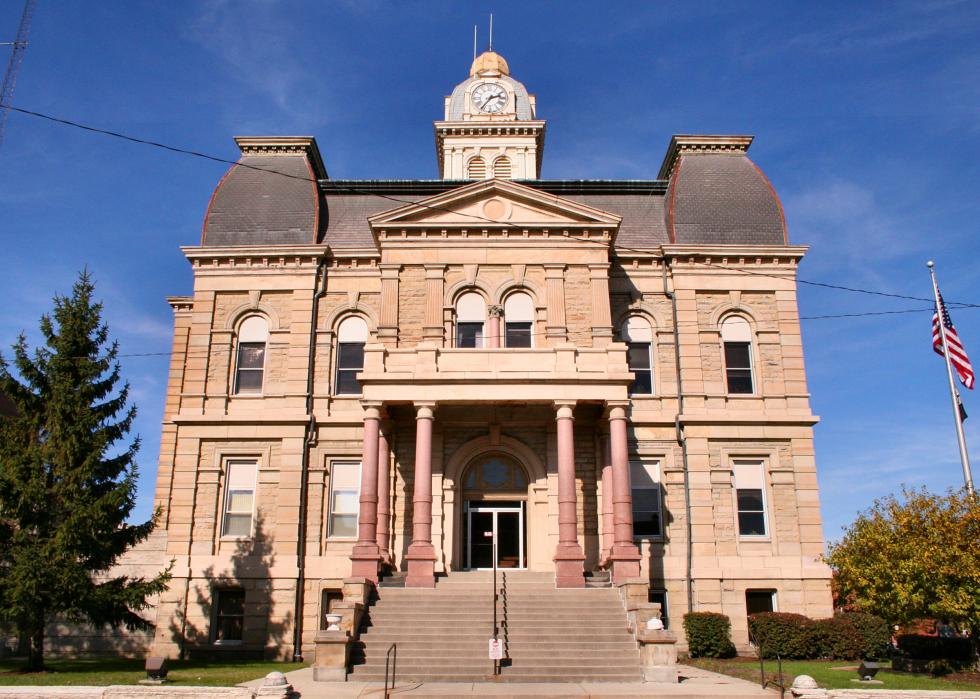 34 / 50 Derek Jensen // Wikimedia Commons
#17. Allen County
– Cumulative deaths per 100k: 239 (245 total deaths)
— 37.4% more deaths per 100k residents than Ohio
— #1,009 highest rate among all counties nationwide
– New deaths per 100k in the past week: 1.0 (1 new deaths, 0% change from previous week)
– Cumulative cases per 100k: 11,679 (11,954 total cases)
— 22.7% more cases per 100k residents than Ohio
– New cases per 100k in the past week: 20 (20 new cases, +33% change from previous week)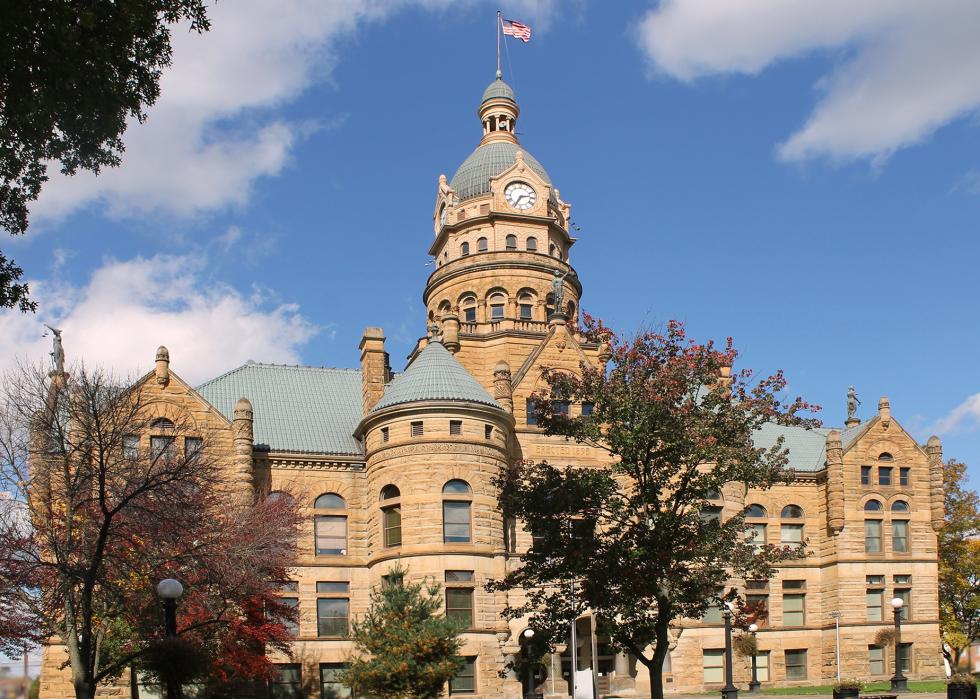 35 / 50 Jack W. Pearce // Wikimedia Commons
#16. Trumbull County
– Cumulative deaths per 100k: 245 (486 total deaths)
— 40.8% more deaths per 100k residents than Ohio
— #954 highest rate among all counties nationwide
– New deaths per 100k in the past week: 0.5 (1 new deaths, 0% change from previous week)
– Cumulative cases per 100k: 8,392 (16,613 total cases)
— 11.9% less cases per 100k residents than Ohio
– New cases per 100k in the past week: 12 (23 new cases, -23% change from previous week)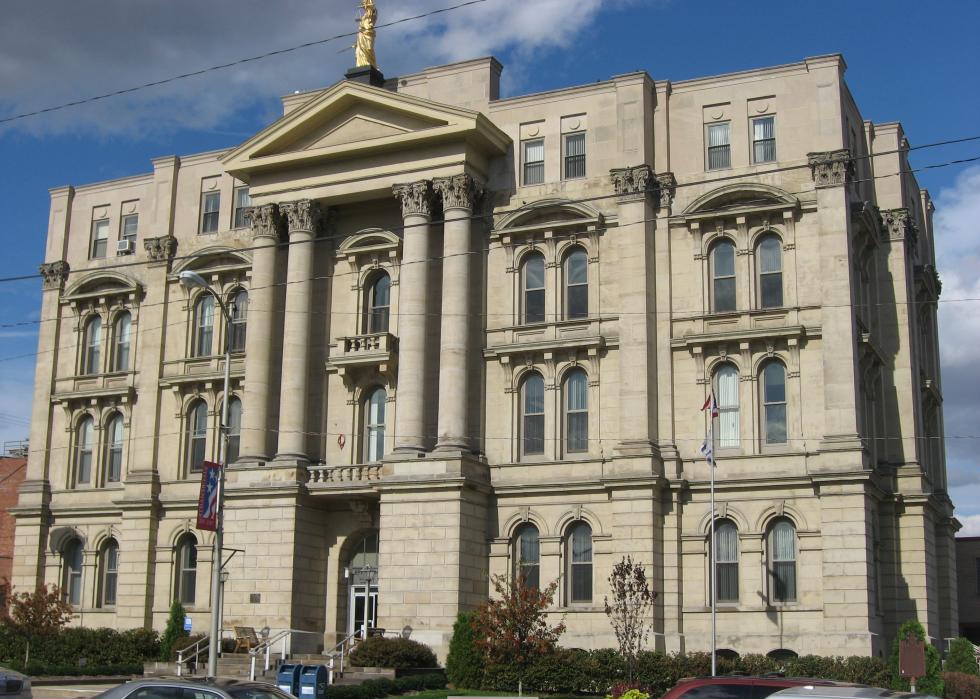 36 / 50 Nyttend // Wikimedia Commons
#15. Jefferson County
– Cumulative deaths per 100k: 245 (160 total deaths)
— 40.8% more deaths per 100k residents than Ohio
— #953 highest rate among all counties nationwide
– New deaths per 100k in the past week: 0.0 (0 new deaths, 0% change from previous week)
– Cumulative cases per 100k: 8,715 (5,693 total cases)
— 8.5% less cases per 100k residents than Ohio
– New cases per 100k in the past week: 12 (8 new cases, +300% change from previous week)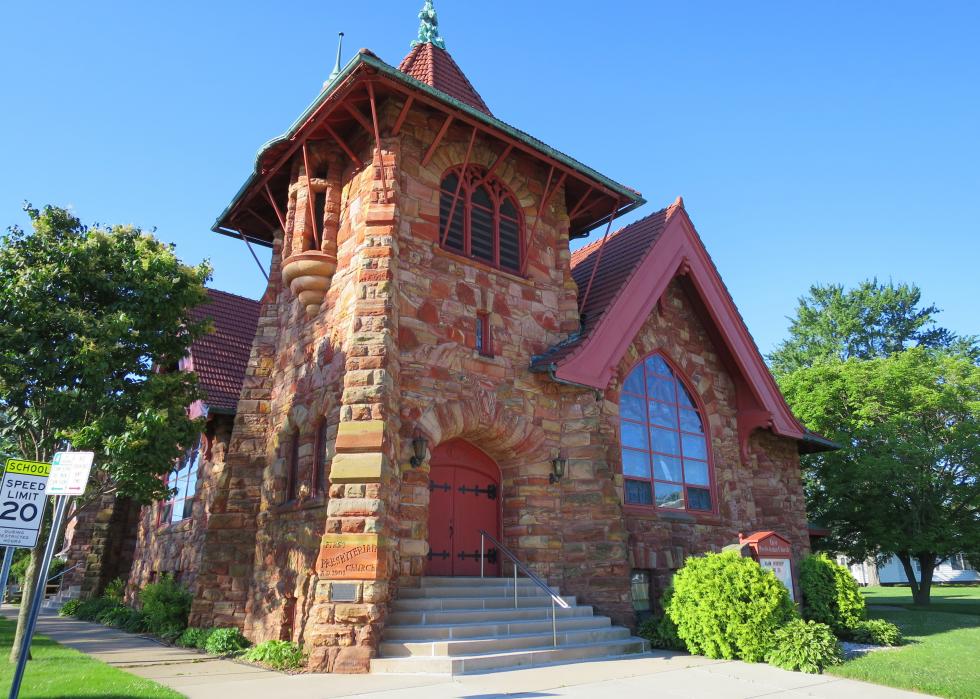 37 / 50 Art Anderson // Wikimedia Commons
#14. Henry County
– Cumulative deaths per 100k: 248 (67 total deaths)
— 42.5% more deaths per 100k residents than Ohio
— #926 highest rate among all counties nationwide
– New deaths per 100k in the past week: 0.0 (0 new deaths, 0% change from previous week)
– Cumulative cases per 100k: 10,179 (2,749 total cases)
— 6.9% more cases per 100k residents than Ohio
– New cases per 100k in the past week: 33 (9 new cases, +350% change from previous week)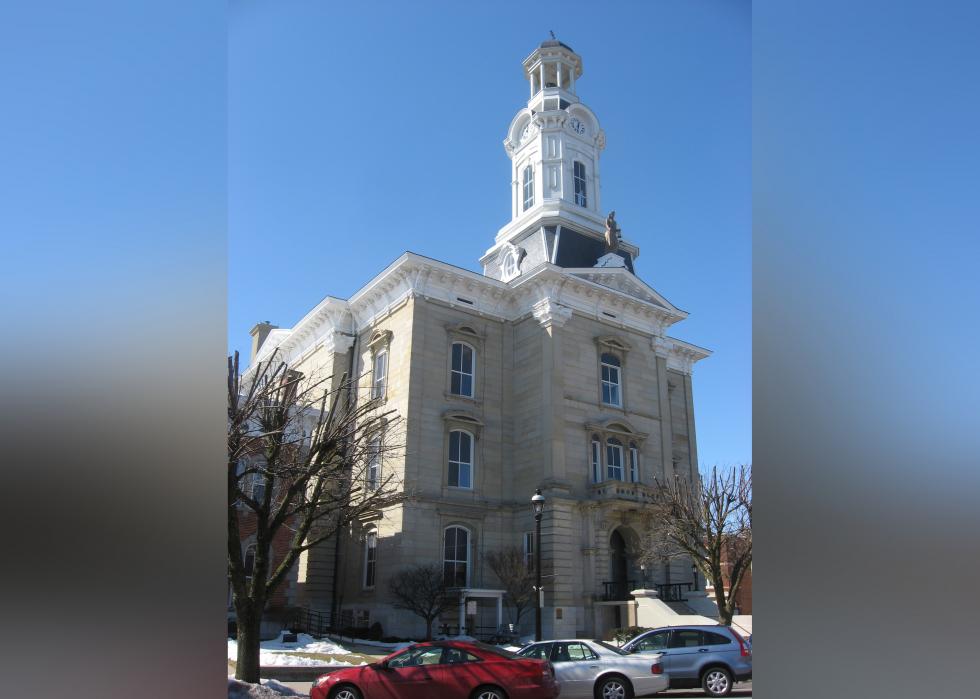 38 / 50 Nyttend // Wikimedia Commons
#13. Darke County
– Cumulative deaths per 100k: 252 (129 total deaths)
— 44.8% more deaths per 100k residents than Ohio
— #903 highest rate among all counties nationwide
– New deaths per 100k in the past week: 0.0 (0 new deaths, 0% change from previous week)
– Cumulative cases per 100k: 10,624 (5,430 total cases)
— 11.6% more cases per 100k residents than Ohio
– New cases per 100k in the past week: 10 (5 new cases, 0% change from previous week)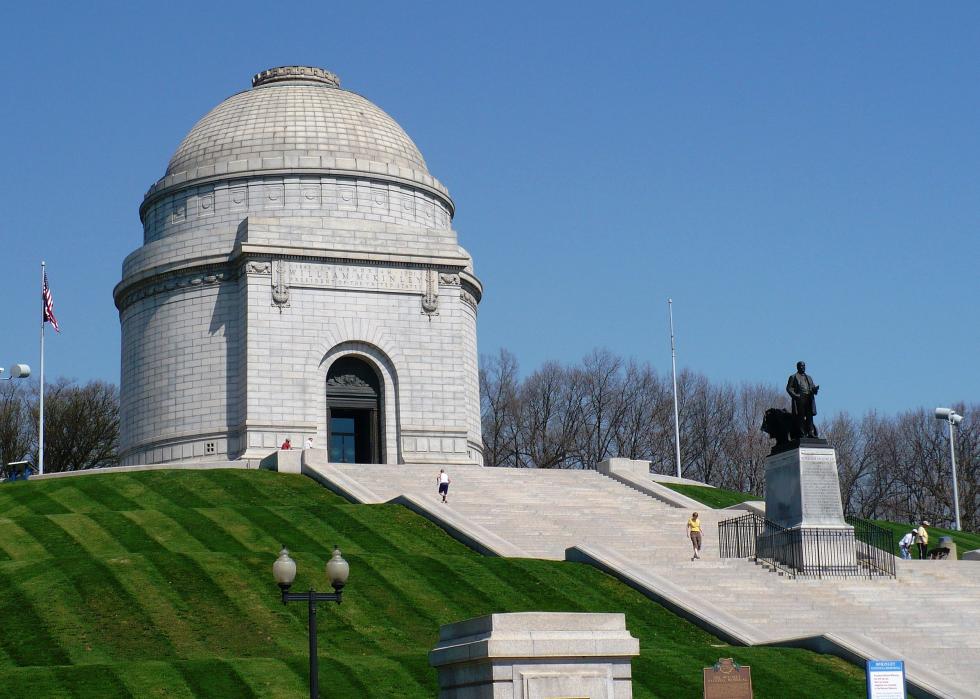 39 / 50 Alycat // Wikimedia Commons
#12. Stark County
– Cumulative deaths per 100k: 253 (936 total deaths)
— 45.4% more deaths per 100k residents than Ohio
— #899 highest rate among all counties nationwide
– New deaths per 100k in the past week: 0.5 (2 new deaths, 0% change from previous week)
– Cumulative cases per 100k: 9,035 (33,484 total cases)
— 5.1% less cases per 100k residents than Ohio
– New cases per 100k in the past week: 20 (74 new cases, +35% change from previous week)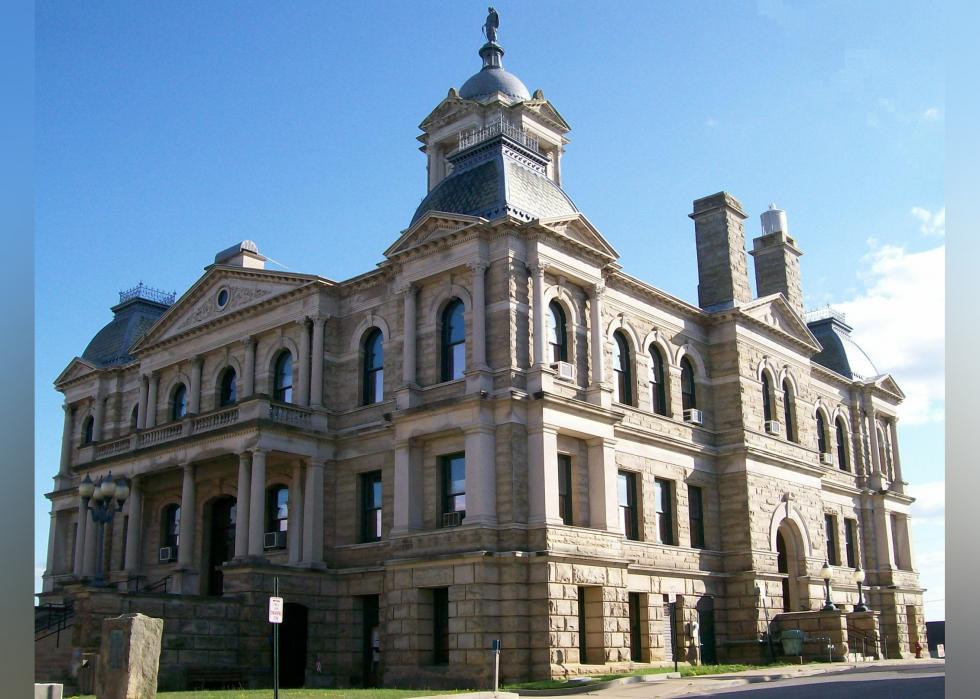 40 / 50 Bwsmith84 // Wikimedia Commons
#11. Harrison County
– Cumulative deaths per 100k: 253 (38 total deaths)
— 45.4% more deaths per 100k residents than Ohio
— #892 highest rate among all counties nationwide
– New deaths per 100k in the past week: 0.0 (0 new deaths, 0% change from previous week)
– Cumulative cases per 100k: 7,606 (1,144 total cases)
— 20.1% less cases per 100k residents than Ohio
– New cases per 100k in the past week: 7 (1 new cases, -50% change from previous week)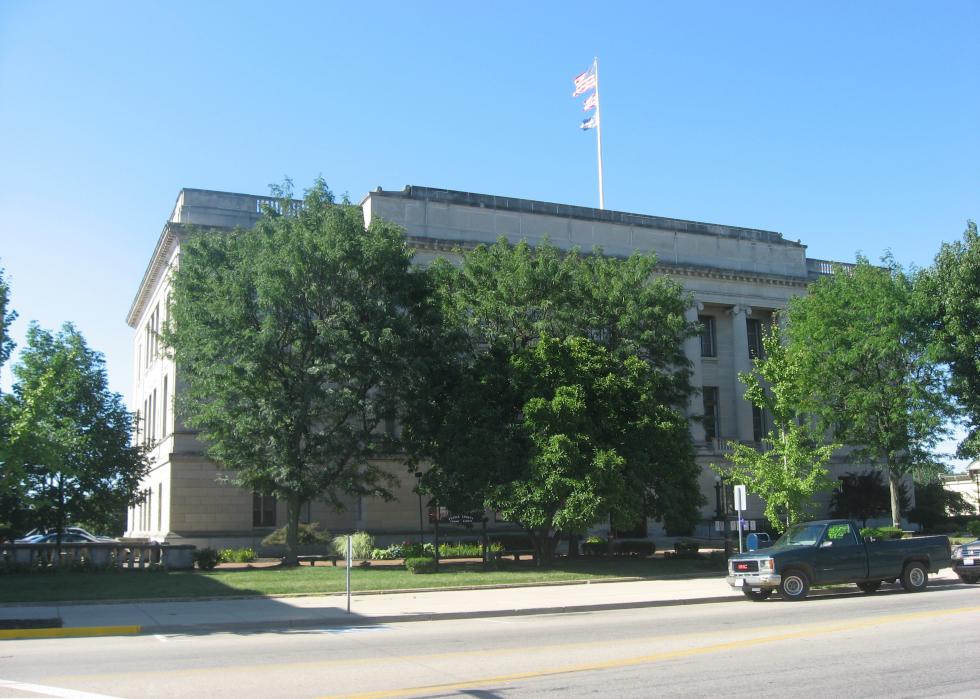 41 / 50 Nyttend // Wikimedia Commons
#10. Preble County
– Cumulative deaths per 100k: 259 (106 total deaths)
— 48.9% more deaths per 100k residents than Ohio
— #848 highest rate among all counties nationwide
– New deaths per 100k in the past week: 0.0 (0 new deaths, 0% change from previous week)
– Cumulative cases per 100k: 9,505 (3,886 total cases)
— 0.2% less cases per 100k residents than Ohio
– New cases per 100k in the past week: 29 (12 new cases, -20% change from previous week)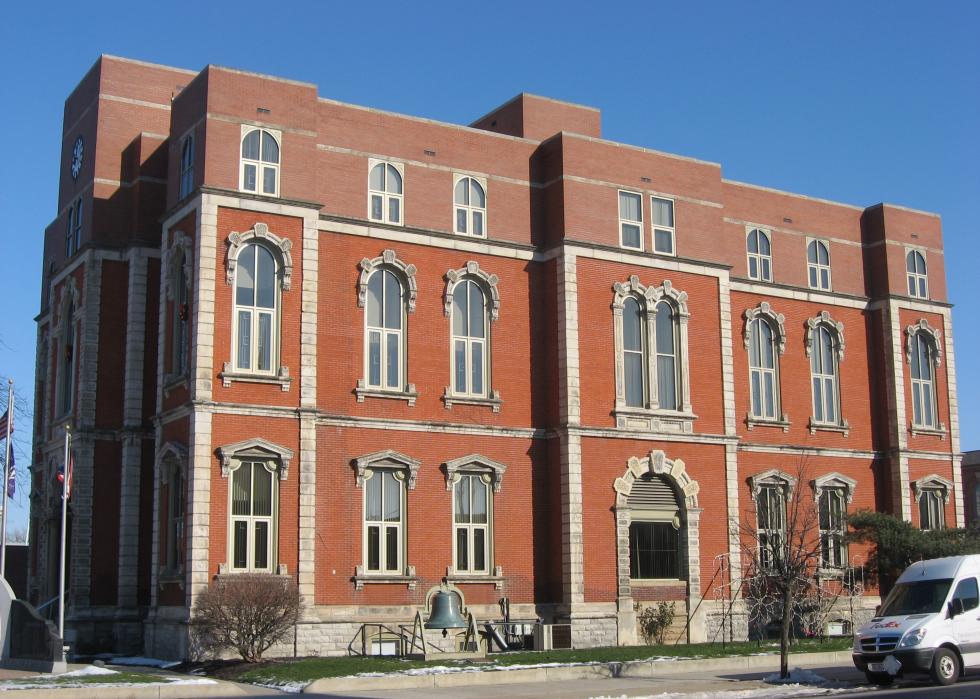 42 / 50 Nyttend // Wikimedia Commons
#9. Defiance County
– Cumulative deaths per 100k: 260 (99 total deaths)
— 49.4% more deaths per 100k residents than Ohio
— #834 highest rate among all counties nationwide
– New deaths per 100k in the past week: 0.0 (0 new deaths, 0% change from previous week)
– Cumulative cases per 100k: 11,361 (4,327 total cases)
— 19.3% more cases per 100k residents than Ohio
– New cases per 100k in the past week: 5 (2 new cases, 0% change from previous week)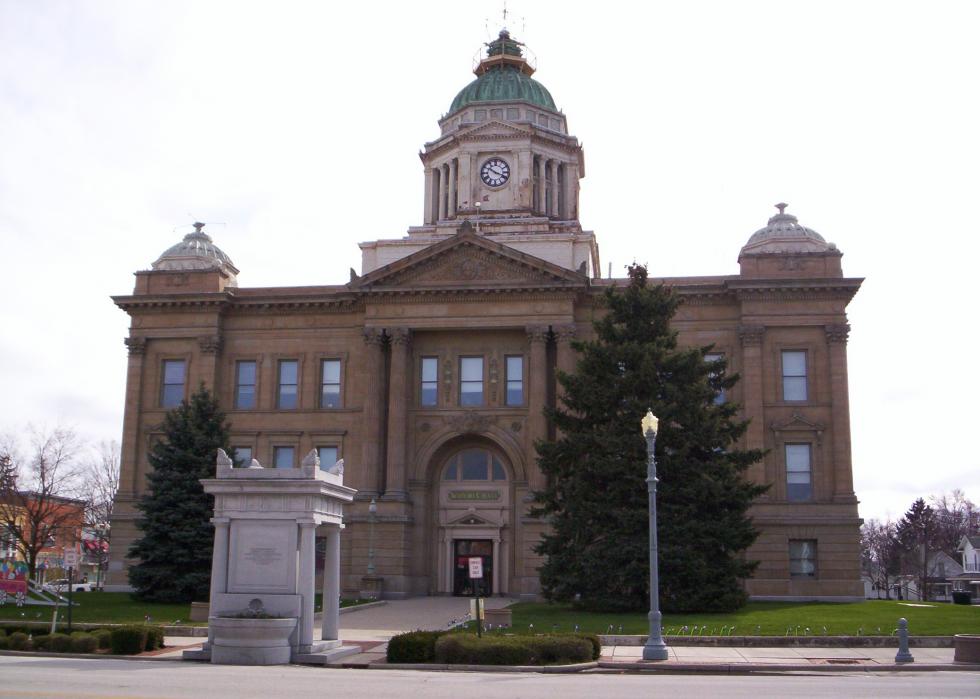 43 / 50 User:OHWiki // Wikimedia Commons
#8. Wyandot County
– Cumulative deaths per 100k: 262 (57 total deaths)
— 50.6% more deaths per 100k residents than Ohio
— #814 highest rate among all counties nationwide
– New deaths per 100k in the past week: 0.0 (0 new deaths, 0% change from previous week)
– Cumulative cases per 100k: 10,794 (2,350 total cases)
— 13.4% more cases per 100k residents than Ohio
– New cases per 100k in the past week: 14 (3 new cases, 0% change from previous week)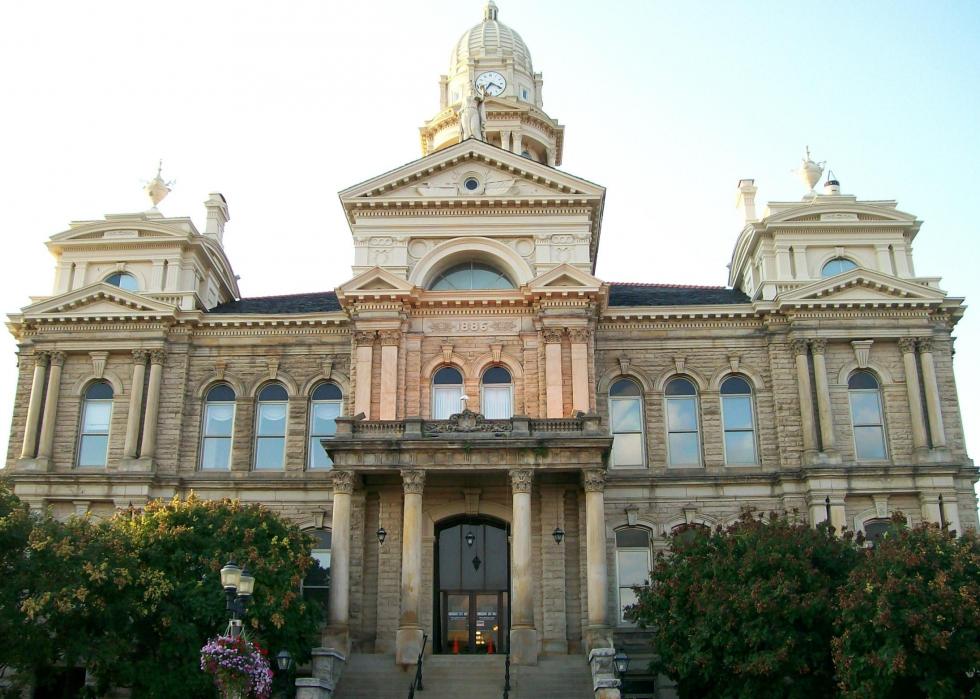 44 / 50 Bwsmith84 // Wikimedia Commons
#7. Belmont County
– Cumulative deaths per 100k: 264 (177 total deaths)
— 51.7% more deaths per 100k residents than Ohio
— #801 highest rate among all counties nationwide
– New deaths per 100k in the past week: 0.0 (0 new deaths, 0% change from previous week)
– Cumulative cases per 100k: 9,223 (6,180 total cases)
— 3.1% less cases per 100k residents than Ohio
– New cases per 100k in the past week: 25 (17 new cases, +240% change from previous week)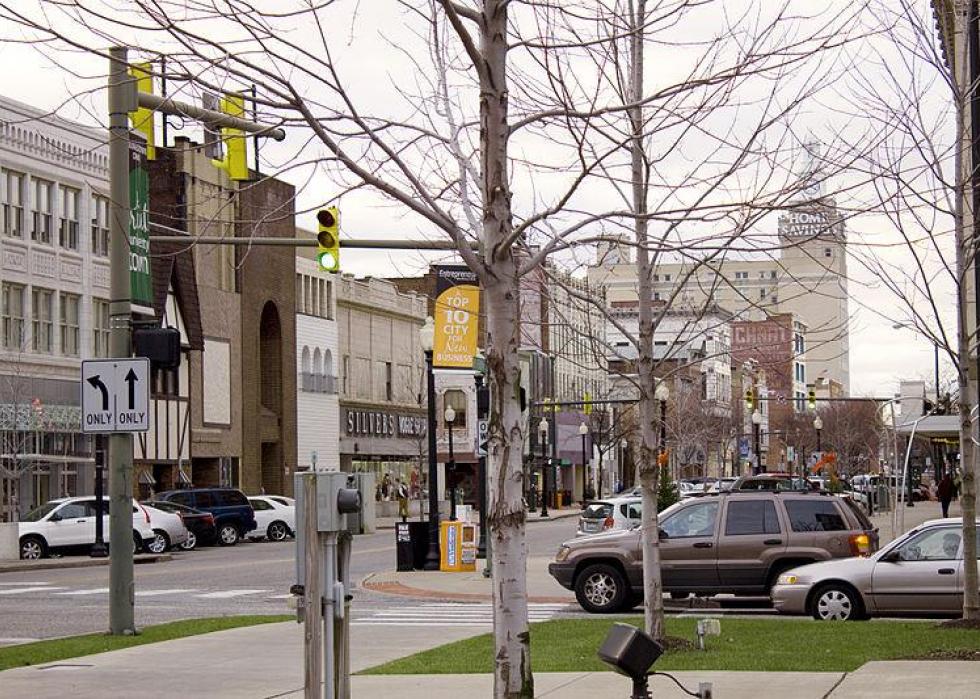 45 / 50 Jack Pearce // Wikimedia Commons
#6. Mahoning County
– Cumulative deaths per 100k: 267 (611 total deaths)
— 53.4% more deaths per 100k residents than Ohio
— #774 highest rate among all counties nationwide
– New deaths per 100k in the past week: 1.3 (3 new deaths, 0% change from previous week)
– Cumulative cases per 100k: 9,816 (22,447 total cases)
— 3.1% more cases per 100k residents than Ohio
– New cases per 100k in the past week: 14 (32 new cases, +19% change from previous week)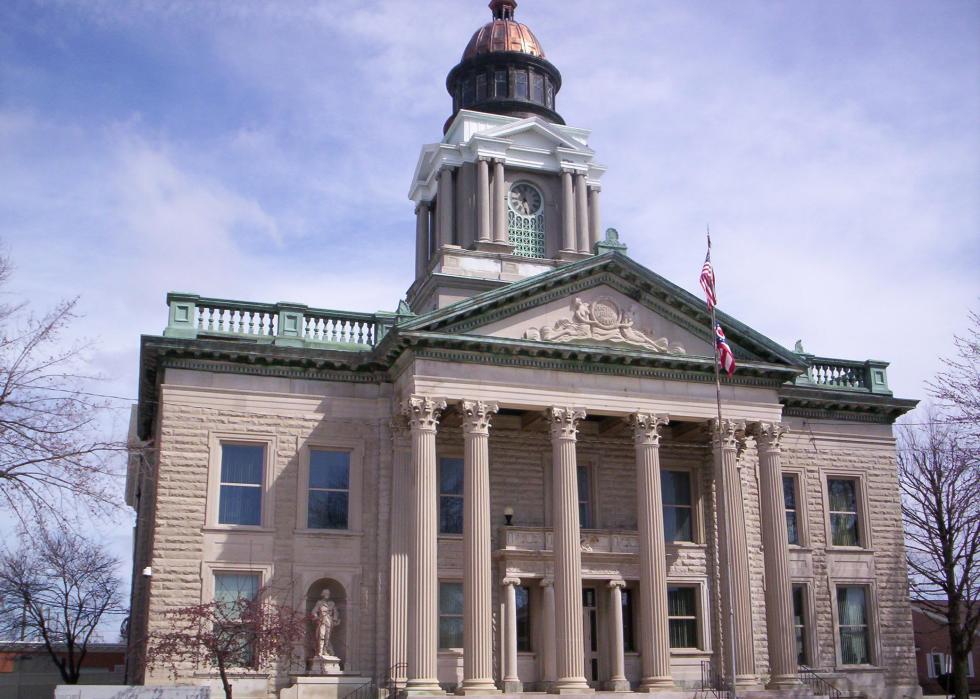 46 / 50 User:OHWiki // Wikimedia Commons
#5. Crawford County
– Cumulative deaths per 100k: 268 (111 total deaths)
— 54.0% more deaths per 100k residents than Ohio
— #761 highest rate among all counties nationwide
– New deaths per 100k in the past week: 0.0 (0 new deaths, 0% change from previous week)
– Cumulative cases per 100k: 9,794 (4,064 total cases)
— 2.9% more cases per 100k residents than Ohio
– New cases per 100k in the past week: 10 (4 new cases, -71% change from previous week)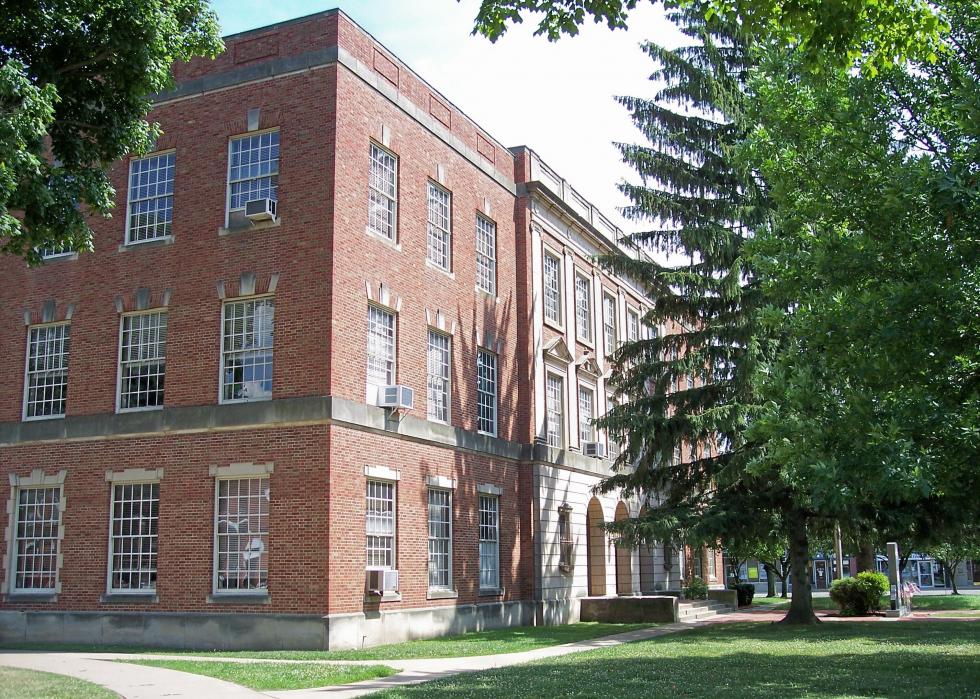 47 / 50 w:User:Malepheasant // Wikimedia Commons
#4. Noble County
– Cumulative deaths per 100k: 270 (39 total deaths)
— 55.2% more deaths per 100k residents than Ohio
— #743 highest rate among all counties nationwide
– New deaths per 100k in the past week: 0.0 (0 new deaths, 0% change from previous week)
– Cumulative cases per 100k: 9,463 (1,365 total cases)
— 0.6% less cases per 100k residents than Ohio
– New cases per 100k in the past week: 7 (1 new cases, -50% change from previous week)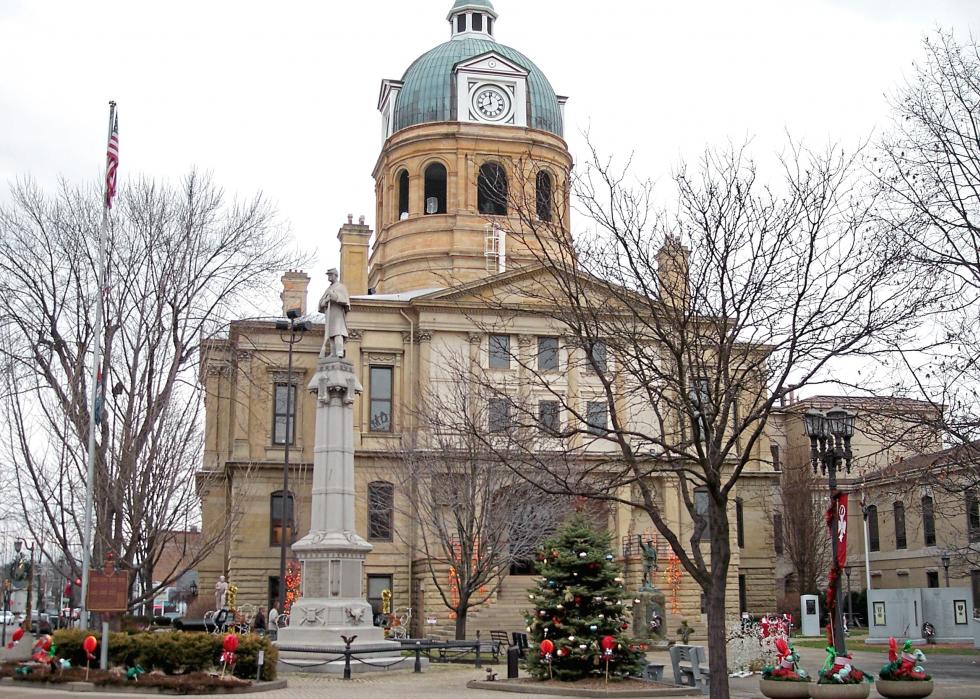 48 / 50 w:User:Malepheasant // Wikimedia Commons
#3. Tuscarawas County
– Cumulative deaths per 100k: 276 (254 total deaths)
— 58.6% more deaths per 100k residents than Ohio
— #697 highest rate among all counties nationwide
– New deaths per 100k in the past week: 2.2 (2 new deaths, 0% change from previous week)
– Cumulative cases per 100k: 9,432 (8,676 total cases)
— 0.9% less cases per 100k residents than Ohio
– New cases per 100k in the past week: 8 (7 new cases, -53% change from previous week)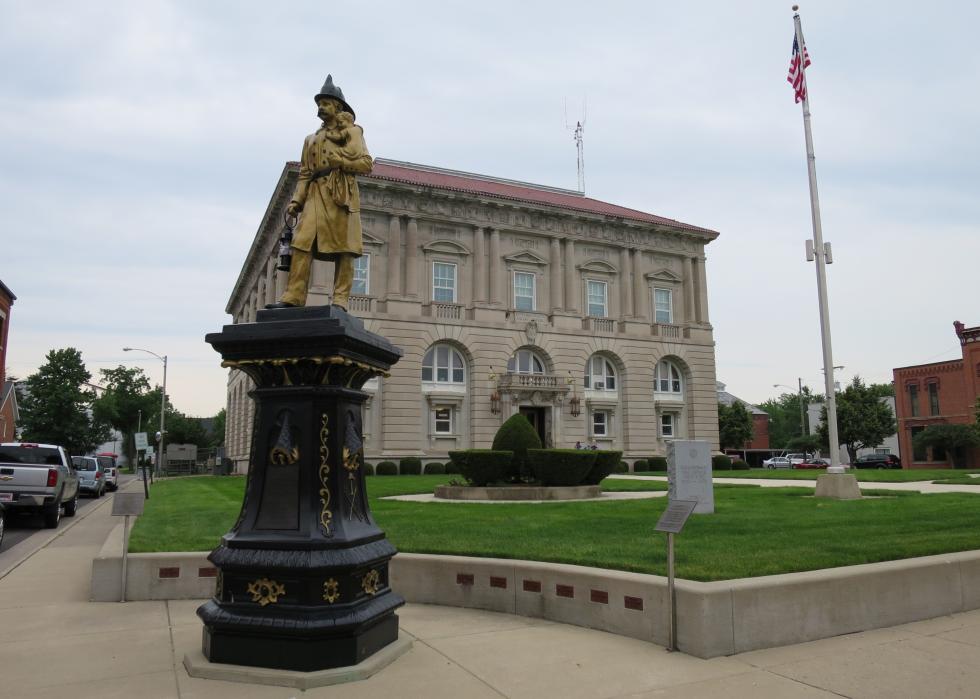 49 / 50 Art Anderson // Wikimedia Commons
#2. Putnam County
– Cumulative deaths per 100k: 307 (104 total deaths)
— 76.4% more deaths per 100k residents than Ohio
— #492 highest rate among all counties nationwide
– New deaths per 100k in the past week: 0.0 (0 new deaths, 0% change from previous week)
– Cumulative cases per 100k: 12,808 (4,337 total cases)
— 34.5% more cases per 100k residents than Ohio
– New cases per 100k in the past week: 0 (0 new cases, -100% change from previous week)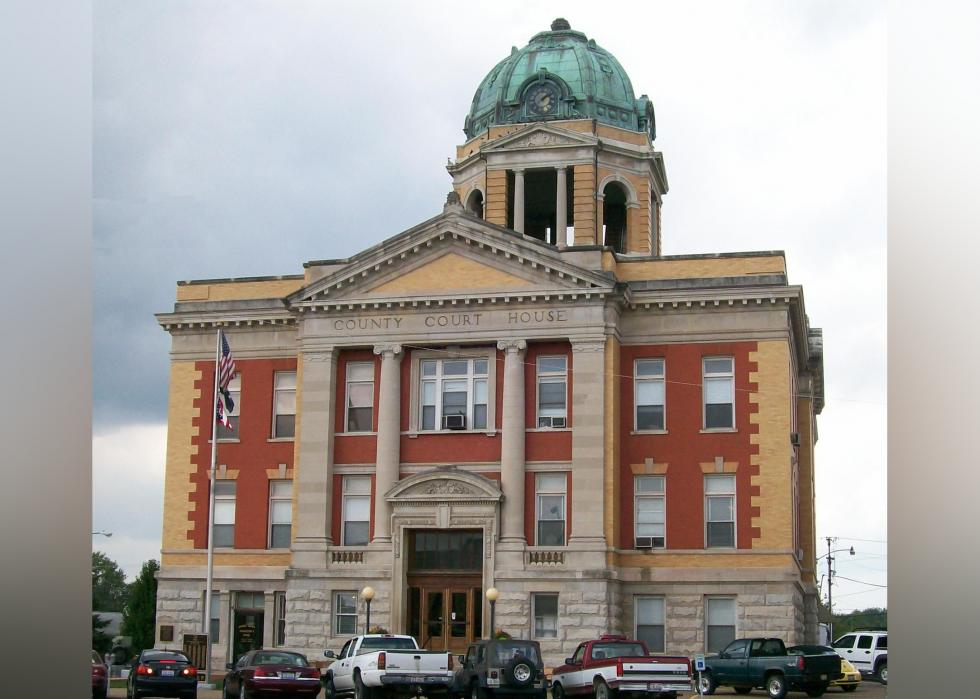 50 / 50 Bwsmith84// Wikimedia Commons
#1. Monroe County
– Cumulative deaths per 100k: 330 (45 total deaths)
— 89.7% more deaths per 100k residents than Ohio
— #373 highest rate among all counties nationwide
– New deaths per 100k in the past week: 0.0 (0 new deaths, 0% change from previous week)
– Cumulative cases per 100k: 10,012 (1,367 total cases)
— 5.1% more cases per 100k residents than Ohio
– New cases per 100k in the past week: 22 (3 new cases, +200% change from previous week)