This is an archived article and the information in the article may be outdated. Please look at the time stamp on the story to see when it was last updated.
​
AKRON — The Akron house fire that killed seven people was an "act of arson."
Officials said a man, Stanley Ford, 58, was arrested and charged with one count of aggravated arson and seven counts of aggravated murder.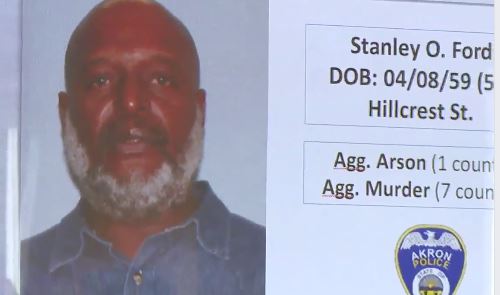 Authorities said Ford was a neighbor but had no known affiliation with the family.
Killed in the fire were Dennis Huggins, 35; Angela Boggs, 37; Jared Boggs, 14; Daisia Huggins; 6; Kyle Huggins, 5; Alivia Huggins, 3; and Cameron Huggins, 16 months.
A memorial service will be held Saturday to remember the seven victims.
Anyone with additional information relating to this fire is encouraged to call the
State Fire Marshal's Fire & Explosion Investigation Bureau tip line at 800-589-
2728.