This is an archived article and the information in the article may be outdated. Please look at the time stamp on the story to see when it was last updated.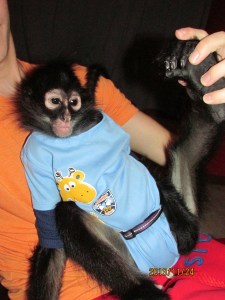 VERMILION, Ohio — Owners of a spider monkey that bit a man in Vermilion say they were told Erie County health officials plan to euthanize the animal Saturday morning to test for rabies.
The 2-year-old monkey named Brodi has been in quarantine since Tuesday after he bit an employee at a Vermilion car dealership.
"He doesn't have rabies. This is not fair to do to him," said Jacob Ruehlman, a co-owner of Brodi.
Brodi lived with Jacob and his family in Vermilion. Brodi's co-owner, Diana Tanner, lives near Columbus and has been keeping him in quarantine since Tuesday.
She told Fox 8 that health officials came to her house around 8 p.m. Friday and took Brodi after sedating him.
Erie County Health Commissioner Pete Schade said Friday night that officials must test the monkey for rabies. He said the only way to do that is to euthanize the monkey and test the brain tissue.
Tanner was sobbing when reached by Fox 8 Friday night. She said she is pleading with Erie County officials to find another way to test Brodi and said there is a procedure that can be used.
Ruehlman said the monkey was vaccinated and has all his shots.
"Brodi was just protecting us," Ruehlman said. "He doesn't deserve this."
Schade could not confirm Friday night that the monkey was in custody.
The biting incident happened Tuesday.
The employee said he was helping to remove plates for the customer's car at the time.
When he was finished, he walked over to the window of the car and saw a man sitting with Brodi, which is a white-bellied spider monkey.
The man asked if he could pet the monkey, and after getting permission, put his hand inside the car. The monkey smelled his hand and then bit his right thumb, according to the police report.
The bite mark caused a small puncture wound and started bleeding. The employee said he went to Mercy Hospital for medical treatment.
The monkey's owner told police he didn't have an exotic animals permit, but said Brodi had received a rabies vaccination earlier this year.
Police said they were able to confirm that with a veterinarian in Missouri.
An online petition has been created in support of Brodi. For that petition, click here.