This is an archived article and the information in the article may be outdated. Please look at the time stamp on the story to see when it was last updated.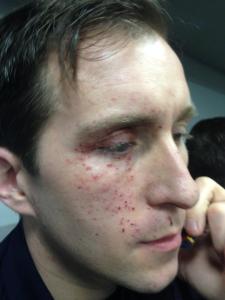 CLEVELAND, Ohio — A close call with a burglary suspect nearly cost a Cleveland police officer his life Wednesday night.
According to police reports, it all happened after a homeowner in the 1400 block of East 61st Street came home to find a man had broken into his home. The suspect fired shots at the victim and then fled the scene in a tan pick-up truck.
A little over two hours later at 7:20 p.m., two officers spotted a truck matching that description in the area of East 79th Street and Redell Avenue. They turned on their cruiser's overhead lights, and the truck pulled over, into a driveway in the 7600 block of Redell Avenue.
The officers said the passenger got out immediately, and after being told to put his hands on top of the vehicle, pulled out a handgun. The suspect pointed the gun at one of the officers.
The officer struggled with the suspect in an effort to get the gun away from him. The suspect fired a shot near his head in the process. The shot was fired so close to him, that the officer had severe gun powder burns on his face.
The officers continued to struggle with the suspect until he dropped his gun. He then tried to pull one of their service weapons from their holster, according to reports.
When back-up officers arrived, two suspects were arrested.
Police are not yet releasing the names of the suspects or the officers involved.
The officer who was nearly shot in the head suffered burns to his face, hearing loss and a bite to his finger, damage to the cornea of one eye and cuts on his hands. The second officer had bruises to his head and cuts to his hand.
Both officers were treated and released from the hospital.
The suspect who fired the gun was taken to MetroHealth Medical Center due to shortness of breath. He was treated and released from the hospital.
Both suspects are still in custody.