This is an archived article and the information in the article may be outdated. Please look at the time stamp on the story to see when it was last updated.
CLEVELAND – For the first time since a deadly police shooting, a Cleveland police officer, who was shot in the chest, speaks about what happened that night.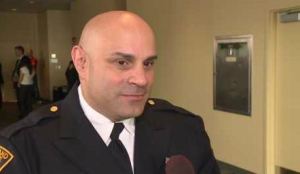 " I didn't really feel it at first, actually at all and Adrenalin took over," said Officer David Muniz.
Police body camera video released earlier this week shows how the six officers tried to negotiate with an armed suspect, even after he fired his gun and struck Muniz in his bullet proof vest.
The officers just got to watch the body camera video a few days ago.
"Your heart starts racing a little bit. You don't remember half the stuff; it was different seeing it," Muniz said.
We were able to speak to Muniz, and the other officers with him that night when they were in Columbus on Friday to receive a distinguished law enforcement valor award from Ohio Attorney General Mike DeWine.
"These officers do a difficult job day in and day out," DeWine said.
The officers told Fox 8 they did everything they could to convince the suspect, Theodore Johnson, to put down his gun. But after Johnson raised his gun again he was shot and killed.
The Cuyahoga County prosecutor's office ruled this week the officers actions were justified.
The officers involved in the shooting will return to their normal duties Monday, which is welcome news to Muniz, who calls his fellow officers heroes.
"Oh God, we were a close group before, even closer now," Muniz said.
Several other area officers were also recognized including:
South Euclid Police Department: Patrolman Steve Wilson
Uniontown Police Department: Capt. David Brown, Sgt. Michael Batchik
Cleveland Division of Police: Officer Joseph Edwards IV, Officer Nicholas Lombardi
Cleveland Division of Police: Officer John Lyons, Officer Matthew Pollack
Cleveland Division of Police: Officer Timothy Hannon, Officer John Jarrell, Officer John Lyons, Officer Brandon Melbar, Officer David Muniz, Officer Michael Surtz
Cleveland Division of Police: Sgt. Kevin Coleman, Officer Daniel Jopek, Officer Kevin Kincaid Jr., Officer Robert Mangan, Officer James Merritt, Officer Ian Mussell, Officer Mark Pesta, Officer Robby Prock
Distinguished Law Enforcement Meritorious Service Awards:
Ohio State Highway Patrol and Butler County Sheriff's Office: Lt. Clint Arnold, Lt. Matthew Hamilton, Lt. Kevin Long, Sgt. Joseph Luebbers, Lt. Morgan Dallman, Deputy Brian Oswald
Cleveland Division of Police: Det. Michael McNeeley, Det. Brian Middaugh, Det. Anthony Sauto
Distinguished Law Enforcement Group Achievement Awards:
U.S. Secret Service Southern District of Ohio Electronic & Financial Crimes Task Force
Mahoning Valley Law Enforcement Task Force
Cincinnati Police Department/Bureau of Alcohol, Tobacco, Firearms and Explosives Organized Crime Investigation Squad
Mark Losey Distinguished Law Enforcement Service Awards:
Ohio State Highway Patrol: Colonel Paul Pride
Wright State University Police Department: Officer Kurt Holden
Distinguished Law Enforcement Training Award:
Lorain Police Department: Chief Cel Rivera, Officer Michael Gidich
Distinguished Law Enforcement Community Service Award:
Ashland Police Division: Det. Kimberly Mager
Distinguished Civilian Leadership Award:
Perry Behavioral Health Choices: Theressa Kay Snyder
**Read more on the story here**