This is an archived article and the information in the article may be outdated. Please look at the time stamp on the story to see when it was last updated.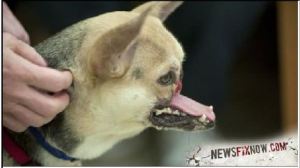 A heroic dog has captured the hearts of millions all over the world.
The pooch named Kabang saved the lives of two young girls who were in the direct path of a motorcycle in the Philippines.
But her selfless action came with a horrific price.
Kapang lost half of her face, including her snout, when she leapt in front of the speeding bike.
Since her story surfaced, donations have poured in from at least 20 countries.
And thanks to a heartwarming campaign, enough funds were collected to fly Kapang to the William R. Pritchard Veterinary Medical Teaching Hospital at UC Davis, where she'll receive state-of-the-art-treatment.
She's got an extremely tough battle ahead of her though, as doctors discovered other serious health issues besides her disfigurement.
In addition to a heartworm infection, Kabang has an aggressive cancerous tumor, the San Francisco Chronicle reports.
Her chance of survival sounds grim, but doctors are optimistic.
"Fortunately for Kabang, her disease is not very advanced," Dr. Jane Sykes told the newspaper. "She has a good prognosis."
For more of Kabang's story, click HERE.
*Click here to visit the "Help Kabang, The Heroic Dog" Facebook Page