This is an archived article and the information in the article may be outdated. Please look at the time stamp on the story to see when it was last updated.
PAINESVILLE, Ohio-- Ohio Department of Transportation crews are out in full force battling the snow and rapidly deteriorating road conditions.
A lake effect snow advisory is in effect for parts of Northeast Ohio, with 1 to 3 inches of snow expected to fall initially and an additional 3-5 possible Tuesday.
"Snow and ice training has been done. The trucks are checked and they're prepped," said Tom Henderson, ODOT Painesville Transportation Manager.
ODOT District 12 will have about 65 trucks out on the roads overnight and throughout the duration of the storm, which started with persistent rain Monday.
"It's depressing," said Conrad Mbessa, Lake County.
The unrelenting rain made for a miserable commute home, but also delayed ODOT's abilities to pre-treat the roads in preparation for the snow.
"We are not able to pre-treat because the rain will just wash that solution right off the highways," said Amanda McFarland, ODOT spokesperson.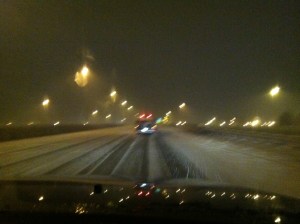 Instead, both drivers and managers with ODOT spent the night monitoring the air and surface temperatures and as soon as they dropped near freezing they began "dropping salt."
Temperatures are expected to plummet into the 20s with blustery conditions.
*Get the latest FOX 8 forecast*

ODOT says drivers need to be prepared, get gas and allow extra travel time.
"I just hope it's going to be slow and no accidents or anything. I hope it's a good day tomorrow," said Conrad and ODOT agrees.
Each year people are hurt and lives are lost in car/plow collisions.
They say the trucks have blind spots and are very heavy vehicles.
Drivers should stay back and give the trucks room to work and not "crowd the plow."
The City of Cleveland is also on snow watch with their entire fleet of snow trucks and equipment ready to deploy as the conditions deteriorate.
"Especially since the worst of the weather is expected during the early morning hours before 8 a.m.," said Tom Henderson.
*Share your snow pictures HERE.