This is an archived article and the information in the article may be outdated. Please look at the time stamp on the story to see when it was last updated.
​PARMA, Ohio -- A nurse saved the life of a child at the scene of a crash that left one person dead and several children injured on Snow Road in Parma, Monday night.
Andrea Delfs was on her way to work at University Hospitals when she saw the crash and turned around to help.
Police said a Subaru had crashed head-on into a Honda Pilot, carrying six children.
Delfs said she normally takes State Road to work, but on Monday evening, she took Snow Road.  "It was fate that I was going down that road and saw them.. I was meant to be there," she said during a press conference on Tuesday. It was also Delfs' first week back at University Hospitals after working at Rainbow Babies for a time.
When Delfs arrived at the scene, she noticed someone carrying a girl who was limp. When she checked for a pulse and didn't feel one, she started doing CPR; in the middle of it, the girl started to move her finger.
At that point, she administered CPR on the man in the other car.
For Delfs, there was never a doubt in her mind to step in and help out. "For me, if I see something and someone who needs help, I just go, and I can't even look away; I need to help them, and that's what I did."
**Click here for information on the PulsePoint app**
Police said the driver of the Subaru, Luke Kuryluk, 23, of Parma Heights, died at the scene.
The driver of the Honda Pilot, a 36-year-old Seven Hills woman, was seriously injured. Three of the six children including the child Delfs helped were taken to the hospital.
The children in the Honda ranged in ages from 1 to 11.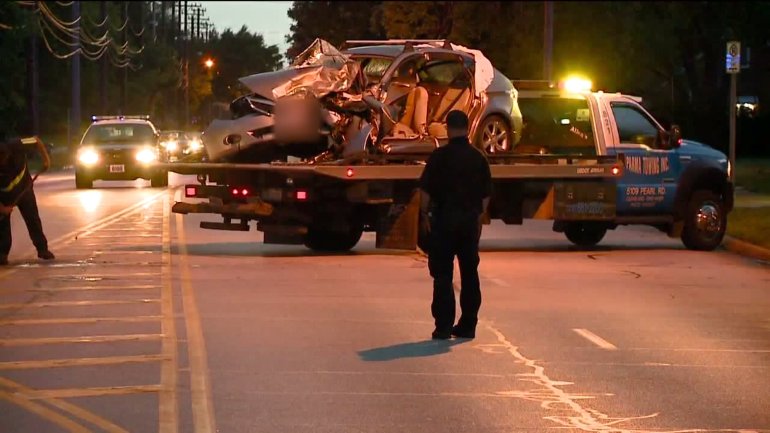 A crash investigation team determined that just before the collision, Kuryluk was driving westbound on Snow Road and crossed through the intersection with State Road. For reasons which are still unknown, he veered into the eastbound lanes of Snow Road and struck the Honda Pilot.
The accident remains under investigation.
**Editor's note: a press release from Parma police stated the nurse helped a one-year-old boy; this story has been updated to reflect she helped another one of the children who was a girl**