This is an archived article and the information in the article may be outdated. Please look at the time stamp on the story to see when it was last updated.
CLEVELAND, Ohio — The number of people quarantined in Ohio after the visit from nurse Amber Vinson, who tested positive for Ebola, has risen from one to three.
**See a timeline of Vinson's visit at the bottom of this page**
Only Vinson's stepfather had been quarantined in his home as of Saturday.
A Summit County health department representative on Sunday said two more people have been quarantined because of new guidelines issued by the state.
The 29-year-old Vinson was diagnosed last week with Ebola after caring for a man at a Dallas hospital who died from the disease. Vinson flew from Dallas to Cleveland on Oct. 10 to prepare for her wedding and flew back on Oct. 13.
There are now 153 people being monitored in Ohio because of contact or potential contact with Vinson. That number was 116 on Saturday.
For all contacts identified so far in Ohio along with their level of monitoring, see the chart below: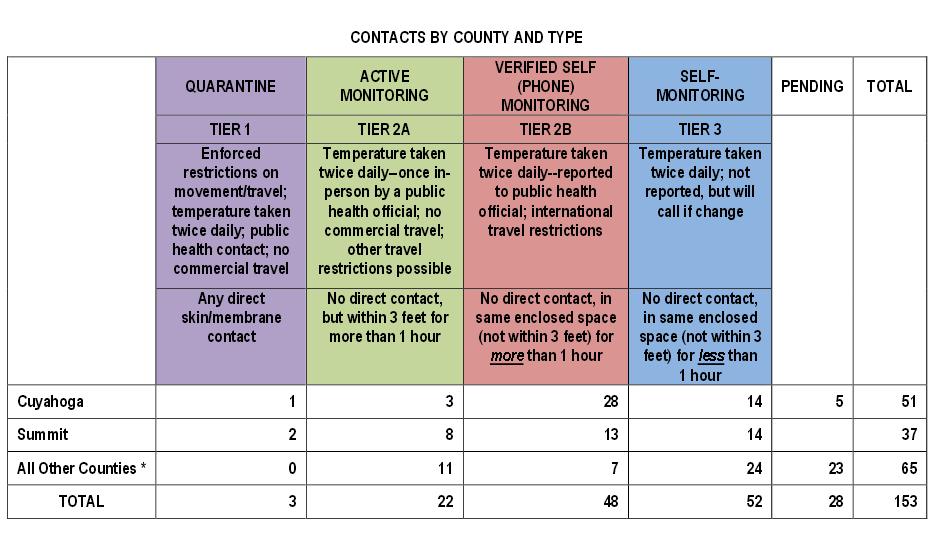 Key dates during Vinson's time in Dallas and Cleveland:
— Sept. 30: Thomas Eric Duncan tests positive for Ebola., becoming the first person diagnosed with the virus in the United States. He had traveled from Liberia to Dallas, where he fell ill and was taken to Texas Health Presbyterian Hospital, where Vinson works. Medical records provided to The Associated Press show Vinson was with him the day he tested positive.
— Between Sept. 30-Oct. 2 and Oct. 5-Oct. 8: Vinson is actively engaged in caring for Duncan, records show. She inserts catheters, draws blood, and deals with Duncan's body fluids while wearing protective gear.
— Oct. 8: Duncan dies at the hospital.
— Oct. 10: The 29-year-old Vinson flies into Cleveland from Dallas.
— Oct. 11: Vinson and friends visit Coming Attractions Bridal & Formal in Akron in the afternoon. A preliminary test that evening shows nurse Nina Pham is positive for Ebola.
— Oct. 13: Vinson reports her temperature to the U.S. Centers for Disease Control and Prevention, who clears her to fly out of Cleveland to Dallas.
— Oct. 14: Now back in Dallas, Vinson reports having a fever.
— Oct. 15: After Vinson's diagnosis, state and local health officials confirm Vinson flew out of Cleveland and address precautions taken to decontaminate and limit spread of illness. Vinson is transferred to a special bio-containment unit at Emory University Hospital in Atlanta. Ohio Gov. John Kasich talks to CDC Director Dr. Tom Frieden and requests CDC staff be deployed to Ohio to assist with patient contact work.
— Oct. 16: Kasich talks with President Barack Obama by telephone and thanks him for his help in getting CDC personnel to Ohio. State health officials issue updated guidance on quarantine protocols for health care providers and local officials dealing with a suspected or confirmed Ebola case.
— Oct. 18: Officials say they're monitoring the health of 116 people in Ohio who had contact with Vinson, flew on the same flights as her or visited the same bridal shop.