This is an archived article and the information in the article may be outdated. Please look at the time stamp on the story to see when it was last updated.
NORWALK – Eric Lee Carroll has been charged with murder in the stabbing death of a Good Samaritan last week.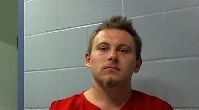 He was also charged with felonious assault, tampering with evidence and involuntary manslaughter and is currently being held at the Huron County Jail.
**Click above for a previous report**
Police say the Good Samaritan was attempting to help a woman that Carroll was allegedly beating.
According to police, Carroll was allegedly assaulting the woman outside an apartment at a complex on Bouscay Avenue.
The Good Samaritan heard the commotion and came running to help the woman.
Police say the Good Samaritan pushed the woman out of the way at one point and was stabbed in the chest. He died at a Toledo hospital.
After the stabbing, Carroll reportedly ran to his mother's home, where he was arrested.