This is an archived article and the information in the article may be outdated. Please look at the time stamp on the story to see when it was last updated.
ABUJA, Nigeria — Eighty-two Chibok schoolgirls have been released after successful negotiations between the terrorist group Boko Haram and the Nigerian government, according to a government official close to the negotiations.
The source, who is not authorized to speak on the record about the release, told CNN the freed girls are in military custody in Banki, a town in northeast Nigeria.
Nearly 200 of the schoolgirls had remained captive after the first negotiated release of 21 girls in October. At the time, Nigeria's government said another group of 83 girls would be released "very soon."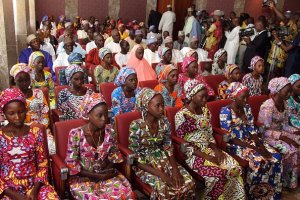 "Huge numbers," the personal assistant to President Muhammadu Buhari, Bashir Ahmad, tweeted late Saturday, without giving details.
Many of the girls were forced to marry the Islamic extremists and became pregnant. Human rights advocates believe others could be among the young girls who have been used to carry out suicide bombing attacks.
A Nigerian official said that while some girls had been released by Boko Haram they had not yet reached the Borno state capital of Maiduguri. The official spoke on condition of anonymity because they were not authorized to speak to reporters.
The group representing the families of the girls said they were awaiting confirmation on how many had been released.
"Our hopes and expectations are high as we look forward to this news being true and confirmed," said Sesugh Akume with the #BringBackOurGirls campaign.
The Nigerian government has denied that a ransom was paid in the October release and that it freed some detained Boko Haram fighters in exchange for the girls.