This is an archived article and the information in the article may be outdated. Please look at the time stamp on the story to see when it was last updated.
TUSCARAWAS COUNTY, Ohio — Newcomerstown police tell FOX 8 the suspects wanted in connection with the shooting of a police officer are still at-large.
A man who authorities originally said was a suspect in the case, Chaz Gillilan, has been cleared, according to the chief.
The Tuscarawas County Sheriff's Office told FOX 8 Gillilan was a suspect in the shooting.
The Ohio Attorney General's Office released a photo of Gillilan saying he should be considered armed and dangerous.
But, once again, the Newcomerstown police chief says he has been cleared in this crime.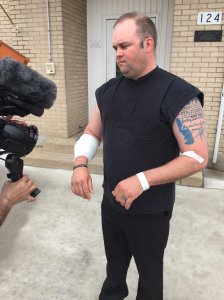 According to the Ohio Attorney General's Office, the shooting took place Tuesday on Johnson Hill Rd SW and Post Boy Rd SW in the city of Newcomerstown.
The officer, 37-year-old Bryan Eubanks, was treated at a hospital and released.
If you have any information on this crime call 911 or 1-877-262-3764.
Stay with FOX 8 News and FOX8.com for more information.
**Editor's note: This story was updated at 1:45 p.m. on 4/11/17 to reflect new information from Newcomerstown police clearing the person who authorities once called a suspect**