This is an archived article and the information in the article may be outdated. Please look at the time stamp on the story to see when it was last updated.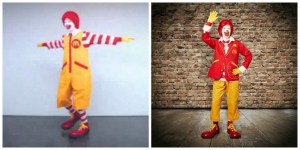 NEW YORK (AP) — Ronald McDonald has a new outfit, and he's ready for a selfie.
McDonald's said its famous spokesclown will take an active role on social media for the first time, using the hashtag #ronaldmcdonald.
The move marks a turnaround from recent years, when the red-haired mascot faded to the background as McDonald's came under criticism for using him to market to children.
But the world's biggest hamburger chain seems ready to give its clown a higher-profile role as it works to boost weak sales.
Without providing details, the company says Ronald McDonald will "take an active role" on its social media channels. It says the clown will also begin appearing in TV ads later this year wearing new clothes, including yellow cargo pants and a red-and-white striped ruby shirt.
Copyright 2014 The Associated Press. All rights reserved. This material may not be published, broadcast, rewritten or redistributed.